RIT community gets ready to ROAR on Tuesday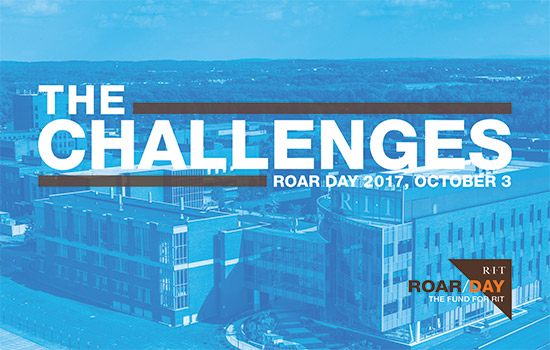 For 12 years the RIT community has celebrated the importance of giving through ROAR Day.
This year, the annual 24-hour day of giving is being held from 10 a.m. on Tuesday, Oct. 3, to 10 a.m. the following day. On this day, anyone who has been or is involved with RIT is encouraged to give to their favorite area of the university. Gifts can be made via cash, check, Tiger Bucks or payroll deduction in person. Gifts via credit card are being accepted online at the ROAR day website.
Last year, there were a record-breaking 3,208 donors who combined to give more than $146,000.
Fredyne Frey '09 (communication and media technologies) is the director of the Fund for RIT and helps organize this event. This year, Frey and her office have a goal of exceeding 3,200 donors to beat last year's numbers.

"We want to encourage a spirit of philanthropy in the RIT community by showcasing all the various ways people can give back to RIT and leave an impact," Frey said. "We're not focusing on a dollar amount, we're focusing on increasing participation."
Through ROAR Day people are able to give back to the specific areas of RIT that left a positive impact on their lives. Gifts such as these are important as it helps maintain the high-quality services offered by the university.
Tuition covers roughly 60 percent of the costs of running the university, and the rest is funded by philanthropic gifts. Even a contribution of $5 helps fill this gap.
Jeff Creagh '11, '13 (finance, MBA) from Charlotte, N.C., makes yearly contributions to ROAR Day as a proud alumnus. Creagh first participated in ROAR Day as a member of the baseball team. They had a challenge against other varsity teams to see who was able to raise the most money, and those who raised the most would receive additional funding for their program. He stresses the importance of philanthropic acts and giving back to the community.
"ROAR Day gives all of us in the RIT community a chance to be a part of the collective and make a larger impact with our giving together," Creagh said. "It's important for all of us to help preserve the RIT experience we had for future generations, and a great way to do that is to make a gift yourself."
This year, thanks to the generosity of several supporters, there are a variety of incentive challenges. More information on these challenges can be found on the ROAR Day website.