RIT family members share international journeys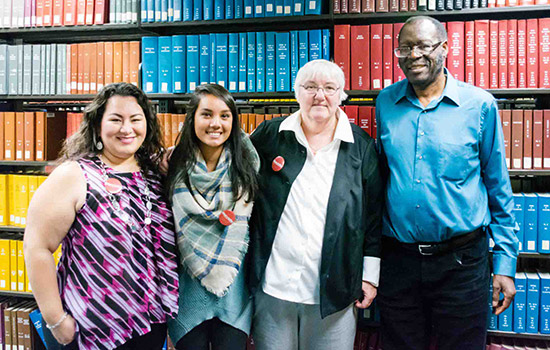 Sara May
When she was 7, Abi Ramos McFiggins came to the United States from Mexico with her mother and six siblings on a tourist visa. They stayed in San Diego and became illegal aliens when they didn't return to Mexico.
"Our mother wanted her children to go to college, so we stayed," she said.
McFiggins graduated with a degree in electrical engineering from Rochester Institute of Technology in 2002, but the road to earning her degree wasn't easy.
She was one of four members of the RIT family who talked Friday afternoon in an event called "My Untold Story," hosted by RIT Libraries. More than 40 people attended the event.
Lara Nicosia, librarian for RIT's College of Liberal Arts, said the event was planned "to allow people to have meaningful conversations about important topics, and learn by hearing people's unique personal experiences."
Growing up in San Diego, McFiggins recalled being laughed at in school because she didn't speak English. She graduated from high school and enrolled at RIT to study electrical engineering in 1997, receiving financial aid that first year. But the laws changed the following year, and she was faced with finding ways to pay for her education.
Still awaiting citizenship, she traveled to Buffalo to see if she could get education assistance and was told she should be deported. She was told she should turn around and pretend she never came into the office.
"It was pretty scary," McFiggins said. "I couldn't go to school, and I couldn't work."
When she got back to Rochester, the official in Buffalo called to say she made a mistake, and McFiggins returned to Buffalo and received her green card that day, which allowed her to stay in the U.S. to study.
"It changed the rest of my life," she said. "There was no way I would have been able to get a degree without it."
She worked two jobs, 30 hours a week, and received her bachelor's degree in 2002 with a 3.92 GPA. She became a U.S. citizen in 2007 and lives in Owego, N.Y., where she works as an engineering manager at Lockheed Martin.
And she made sure she paid off her $25,000 in student loans.
"I'm not going to be a moocher, I want to give back," she said.
Isha Mehta, a second-year graphic design major from Aberdeen, Md., moved to the U.S. with her family from India 10 years ago because her parents wanted the best education for her and her older sister.
She recalls first attending grammar school in the U.S. "I had very minimal experience with English, and all I could do was cry," she said.
Mehta eventually made friends in school "and later on, we saw it was the best for us."
In India, school isn't free. "There were a lot of kids in the street my age begging for money," she said. "It's really sad."
Mehta became a U.S. citizen five years ago, but says she doesn't feel fully American, nor Indian, but said perhaps she can use her experience as a bridge between the two cultures.
Edward Kannyo, an associate professor in RIT's political science department, came to the U.S. from his native Uganda in 1971, where political unrest was common.
"My problem, I've always been political," Kannyo said. "I'd speak up and be involved in student politics. That made me quite visible, and I was on a list of people the government was watching."
He went to college at Yale and had planned to return to Uganda after graduation. "But we knew if we went back, we'd be dead," he said.
So he applied for political asylum "and gave evidence that if I was sent back, I could be prosecuted. Or worse."
He has taught at RIT for 15 years.
Lilli Holdgaard Jensen came to Rochester from her native Denmark in 1991 to study special education. She went back to Denmark but returned to RIT in 1994 and began working at RIT, where she's now assistant director of International Student Services.
"I love telling my story," she said after her presentation. "They wanted to know what my perception was of American culture and has it changed. It certainly has."
Jensen maintained her Danish citizenship and added her American dual citizenship last year.
"I wanted to be able to vote, to fully participate as a citizen," she said. "It has been a lot of learning and stressful at times to stay, but I look back with no regrets."