RIT features sculpture by Cornell's Roberto Bertoia
'Confluence' is curated by Josh Owen, industrial program chair and a former student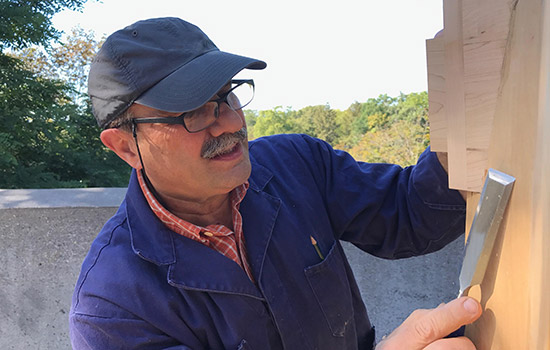 Chet Lubarsky
A captivating exhibit exploring site, context, material and craft as it relates to an artist's investigation into isolation, absence and presence—all at the intersection of sculpture, landscape, architecture and design—is set for Rochester Institute of Technology beginning Nov. 1.
"Confluence," an exhibit featuring the unique sculpture of Cornell University artist Roberto Bertoia, will be on display at University Gallery inside Booth Hall on the RIT campus from Nov. 1 to Dec. 22. An opening reception is scheduled for 4 to 6:30 p.m. on Saturday, Nov. 11. The reception is free and open to the public.
Bertoia, an associate professor at Cornell, has taught sculpture and drawing for three decades and has exhibited in national and international juried and invitational exhibitions. He has been commissioned by Winston-Salem State University and the University of Binghamton. Bertoia completed his BFA in sculpture in 1978 at the University of Windsor-Ontario and his MFA in sculpture at Southern Illinois University in 1982.
The exhibit, featuring a number of pieces spiraling 13 feet high inside the gallery, is curated by Josh Owen, a professor and chair of the industrial design program at RIT's College of Imaging Arts and Sciences and a former student of Bertoia's.
"Roberto Bertoia's work has always inspired me and I continue to be intrigued by its powerful connections to architectural tectonics," Owen said. "Bertoia was my mentor when I was studying sculpture during my undergraduate days at Cornell University. His thoughtful guidance helped direct me toward a career in design."
Owen noted that his former teacher's knowledge of the design world was due in part to his familial connection to artist/designer Harry Bertoia, an Italian-born artist, sound art sculptor and modern furniture designer who studied at the Cranbrook Academy of Art.
"When I joined the faculty at RIT, I discovered a surprising collection of Harry Bertoia sculptures in the RIT Archive Collection," Owen recalled. "The additional overlap of Massimo Vignelli's work for Knoll in messaging some of Harry Bertoia's designs revealed a confluence of factors that frame this exhibit's narrative in the context of RIT, sparking a dialogue between art, architecture, craft and design."
"Working with Bob in the sculpture department at Cornell was one of the more impactful experiences for me as a young thinker and maker," Owen added. "The framework of critical making that he delivered through his teaching opened up doors for me, which ultimately led to design."
According to a co-authored essay in the exhibit, Andrea Simitch, the Stephen H. Weiss Presidential Fellow, department chair and associate professor, Cornell University Department of Architecture, and Val Warke, associate professor of Architecture, also at Cornell: "Just as a composer might hear the world in a way quite differently than most, those of us trained in architecture tend to look at works of art through lenses that emphasize the most architectonic aspects of the work: Structure and spatiality are perhaps the most prevalent, material and construction follow, and the relation between intention and expression are additional bonuses."
Through this exhibit, Owen is hoping that people will experience the transcending nature of his mentor's work.
"Bob's work transcends boundaries," he observed. "His ability to see through the artificial divisions we create between disciplines reveals what an enlightened artist he is. With this exhibit, we're hoping to open many reference points to his work. At the end of the day, this work is poetry that catalyzes with a clear and unique voice.
The exhibit also provides an opportunity for a former student to foster a greater appreciation of one of his mentors and to inspire gallery visitors to look beyond boundaries and cross lucidly between disciplines.
"I would like this exhibition to provide a portal for visitors into new ways of thinking," he said. "There is also a subtext that underlines the importance of mentorship and how it can powerfully inform an individual's path."
"I believe that there are many layers to this exhibit that will unfold for people, and I'm hopeful it will be as impactful for others as it's story is for me," Owen said.
Topics