RIT Formula alumnus helps pros take checkered flag
Ryan Baldi designs 'Driver-In-The-Loop' racecar simulation systems used by professional racecar teams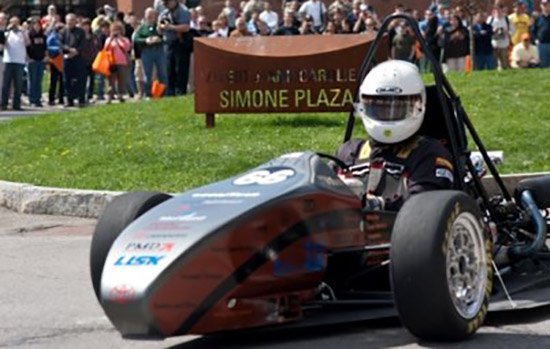 Even before racecar drivers head onto the track, they have lapped significant miles through simulation programs to prepare for every demanding curve and straight-away. Building those program systems is RIT alumnus Ryan Baldi. He has taken his experiences in the Kate Gleason College of Engineering and as part of the RIT Formula Racing team and turned them into a winning career in the competitive world of auto racing.
Today, engineers are as important to race teams as drivers and well-coordinated pit crews. Baldi '10 (mechanical engineering) is an IndyCar simulation and modeling engineer at Pratt & Miller Engineering and Fabrication. He develops the vehicle dynamic simulation tools used by Chevrolet teams, many of which have consistently won IndyCar Manufacturer's and Driver's championships.
"One of the services we provide is computer simulation support. We model the car going around a track on the computer, so drivers can figure out what the car will do in certain scenarios—what makes the car go fast, how best to set the car up, things like that," said Baldi, who splits his time between the Pratt & Miller corporate site in Michigan and with race teams in Charlotte, N.C.
Simulator screens are nearly 20-feet in diameter, projecting an image of both the cockpit found in the race vehicle and the track set up. Baldi also helps train drivers using the simulator, particularly for races taking place on city streets rather than dedicated racetracks.
"Practice time for street circuit races is limited. The simulator helps drivers and engineers develop a good set-up for the car and figure out how to make the combination of driver and car as fast as possible on the course," he explained. "Sometimes, it is not always who has the fastest car or the best driver. The driver and car need to work together to maximize performance. It is really a competition about project management and doing more with your resources than the other teams do with theirs."
Learning about project management began when Baldi participated with the RIT Formula team. He began on the design team that built components and systems, then moved into leadership positions, helping to coordinate the overall build process.
"I remember not really knowing what to expect when I attended my first competition. I grew up around race tracks with my family, but this was different. The competition is so much more than just about building a fast car," he said. "I definitely would not be where I am today without having been a member of the RIT FSAE team. Motorsports is a notoriously hard industry to break into, and the success that the team had while I was a member greatly helped me find good jobs after graduation."
He would go on to work at Tesla as a chassis engineer, then spend four years with Richard Childress Racing, one of the top racecar teams in the country, as lead vehicle performance engineer.
"Both companies sought me out due to the success that the RIT FSAE team had while I was one of the team leaders. Being on the team really taught me how to function in a fast-paced, high-stress environment," he said. "Also, being accustomed to working so hard made the transition from school to being in a fast-paced industry a fairly seamless one."
Responsibilities as part of RIT's Formula team, which is currently celebrating its 25th anniversary season, was a way to apply concepts learned in the classroom into the engineering process as a whole. Building race cars on the collegiate level is challenging, he said, and the competition among different collegiate teams varies with experience and resources. It was not unusual for students on the Formula team to put in more than 40 hours of work per week on the car—in addition to classes and other activities.
When professional race teams cross the finish line, they've arrived there with the combined skills of a fearless driver, a well-built vehicle and strategic use of technology. They can be confident that the technology has been built by a guy with similar credentials.
"All teams commit to building a fast, safe and durable racecar. This is not so different from the focus on professional teams looking to achieve top speeds and a competitive edge. The need for improved automotive and testing technology is part of motorsports today," Baldi added. "Looking back, and I didn't realize this at the time, it taught me probably just as much about working with other people, and during my last year, managing your friends—which wasn't easy—than it did about how to design and build a race car."