RIT Formula Racing team competes in UK competition
University race team is one of several past winners of the international event to commemorate its first competition in 1998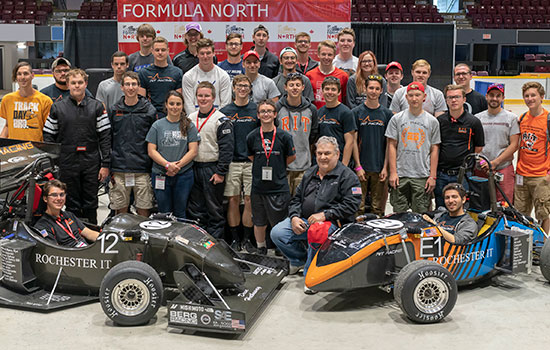 Provided by RIT Racing
Rochester Institute of Technology's Formula race team will cross the Atlantic to compete in Formula Student UK as one of 93 international collegiate race teams competing at the 20th anniversary event. The competition takes place July 11-15 in Northamptonshire, just north of London, at Silverstone Circuit, one of the largest professional Formula tracks in the world.
To commemorate the 20th anniversary, past winners were invited to compete. In 1999, RIT Racing took first place overall topping the University of Texas-Arlington, the University of Akron and the University of Leeds. A recap of the 1999 season by SAE recalled that RIT's team, one of the first U.S. teams to compete at the UK event, had strong competition throughout its season that concluded with the international win in Birmingham, England that year:
The University of Leeds, RIT, and the University of Texas-Arlington placed 1-2-3 in design, but both Leeds and UTA did not finish the endurance race knocking them out of the overall top-ten. Reliability was especially critical in 1999 as there was but a single endurance heat due to the always unpredictable Michigan weather. The competition is so tight that a single miscue can derail even the best of teams. RIT once again did everything almost perfect, picking up yet another overall runner-up finish. RIT made up for their disappointment by winning the Formula Student Competition two months later in Birmingham, England beating UTA, Akron, and Leeds in the process.
RIT Racing will try for a repeat of that victory in its final event of the 2018 season that saw the team place in the Top-20 during its first two competitions in Michigan, in May, and Canada, in June. At the Student Formula North competition in Barrie, Ontario, Canada, RIT Racing entered its traditional combustion (gasoline) car and an all-electric vehicle, the first time running two cars in its 26-year history. The combustion vehicle would place 10th overall.
The e-car, competing in only its second season, took first place overall. It was to be a short-lived victory after an unpredictable start, said Phill Kelner, an electrical engineering major from Pittsburgh, Pa., and project manager for RIT Racing.
"It was an emotional roller coaster of a weekend, with our e-car needing work after failing the first water safety test," Kelner said. "Our electronics team removed, disassembled, cleaned and rebuilt our battery accumulator (the box that holds the batteries) and passed water safety tech just before it closed for the weekend."
The electric car would go on to finish first in efficiency and autocross with high placements in the other event categories, eventually winning the title among all electric cars entered, beating Carnegie Mellon (CMU), Purdue and McGill Universities and last year's winner, University of Pennsylvania. Yet due to a miscalculation by judges during the efficiency event for the Carnegie Mellon team, race administrators recalculated overall points and moved the CMU team into first place.
"We respect the change made by Formula North and congratulate Carnegie Mellon Racing on a well-deserved electric car win," Kelner added. "Our team is proud of our second-place overall finish with just our second all-electric car. We look forward to our final competition at Formula Student UK."
Follow the team throughout Formula Student UK or through the team's Facebook page.
Additional reporting for this story by Samuel Kramer, PR manager, RIT Racing.