RIT gives alumnus and his sons an edge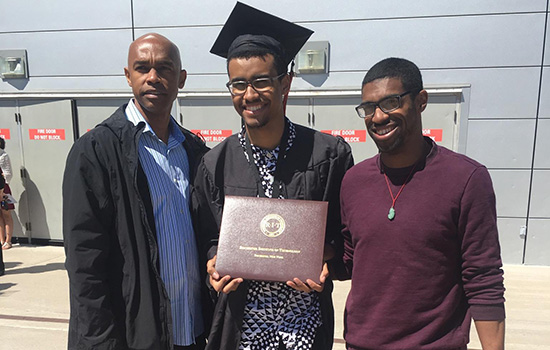 Growing up in the Philadelphia area, Andrew Athias was surrounded by a close group of his father's friends whom he considered aunts and uncles. It wasn't until he was older that he realized they weren't actually related. Their connection—RIT.
"Practically everyone I met growing up who was an adult was an RIT graduate," Andrew said.
So it wasn't too much of a surprise that Andrew continued the family legacy, and now the management information systems major will graduate in December.
His father, Franklyn Athias '85 (computer science) said he met Andrew's "aunts and uncles" freshman year. They were all from the Brooklyn area and had similar interests. A few, like Franklyn, were part of the Higher Education Opportunity Program (HEOP), which provides financial assistance and academic support.
"We all graduated and are successful in our careers," said Franklyn, who is a senior vice president for Comcast Cable. He helped Comcast develop its first internet service and telephone service and recently led a team of 300 engineers to launch mobile service, among other business ventures.
"I've been very lucky over the years and can say I won the lottery working for Comcast. I have to say if it wasn't for attending RIT, this probably would not have happened."
Franklyn said RIT continues to give him an edge in the workforce, so he was glad when Andrew picked his alma mater. Then his youngest son, Jared, got familiar with RIT when he visited Andrew and also enrolled.
Jared '17 (3D digital graphics) now works in Los Angeles at DreamWorksTV as a production assistant.
Andrew said he considers himself RIT's biggest cheerleader. He wears some form of orange every day, he said, and has become known on campus for his school spirit.
"I found my niche and I found myself at RIT," he said. "I found the beauty in RIT as a whole."