RIT honored for participation in Gilman Program
The university was cited for success providing study abroad opportunities to students with disabilities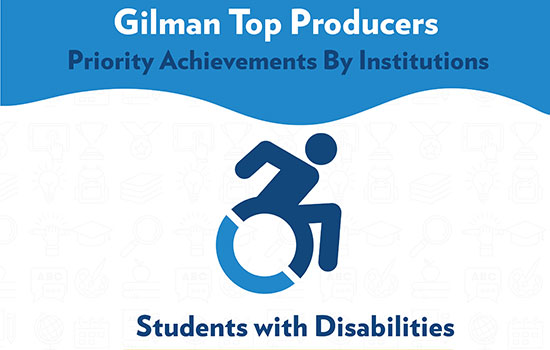 The U.S. Department of State recognized Rochester Institute of Technology for success providing study-abroad opportunities for students with disabilities. RIT was named to the inaugural list of U.S. higher education institutions that sent the most students overseas on the Benjamin A. Gilman International Scholarship Program in academic year 2016-2017. The Gilman Program aims to make international study and internships more accessible and inclusive for American students of all backgrounds.
Among medium-sized colleges and universities, RIT was tied for the most Gilman Awardees with disabilities with three in 2016-2017. RIT is one of just 36 universities nationally named to the Gilman Top Producing Institutions list.
"The access created by this scholarship, paired with RIT's commitment to provide interpreting support for students that are deaf or hard of hearing, has made study abroad not only a possibility, but a reality for many of our students," said Claire DelMonte, program specialist for education abroad and international fellowships at RIT. "The Gilman Scholarship Program's commitment to increasing access to study abroad for underrepresented students has inspired our Education Abroad office to create our own travel grants, which we award to students with financial need."
Four RIT students have been selected Gilman Awardees for spring and summer 2018:
Leo Holman, a fourth-year digital humanities and social sciences student from Hot Springs, S.D., studied abroad in Nanjing, China, this spring
Roberto Ramos-Brito, a third-year student double majoring in electrical engineering technology and applied modern language and culture from Camillus, N.Y., will study in Genova, Italy, this summer.
Third-year applied arts and sciences student Alana Smith of Riverside, Calif., will study in Copenhagen, Denmark, over the summer.
Nathanael Thomas, a fourth-year student double majoring in applied arts and sciences and international and global studies from Bethesda, Md., will travel to the Himalayas this summer to study in Bhutan.
The Gilman Program, with the support of the U.S. Congress, broadens the U.S. student population studying and interning abroad by providing scholarships to outstanding undergraduates who, due to financial constraints, might not otherwise participate. Since the program's establishment in 2001, more than 1,300 U.S. institutions have sent more than 25,000 Gilman scholars to 145 countries around the globe.