RIT honors outstanding faculty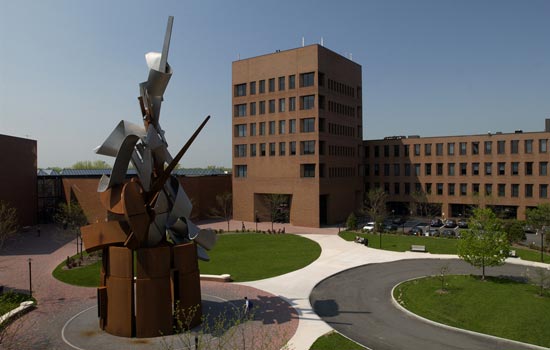 RIT honored outstanding faculty at a ceremony May 5. Several awards were presented, including:
The Innovative Teaching with Technology Award, given to a faculty member who uses technology to teach in effective and innovative ways, was presented to Mario Gomes, assistant professor of mechanical engineering in the Kate Gleason College of Engineering. Gomes is an expert in the dynamics and design of tethered airfoils (kites) for energy production, locomotion mechanics, mechanical energy storage systems and project-based engineering education.
The Excellence in Faculty Mentoring Award recognizes faculty members who have demonstrated an outstanding commitment to faculty mentoring by actively helping non-tenured faculty in developing their careers.
Scott Franklin, professor and director of the Science and Mathematics Education Research Collaborative in the College of Science, joined RIT in 2000. His research interests include granular/soft matter, physics education research including the dynamics of student learning and how physicists associate meaning with mathematical expressions.
Darren Narayan, professor and director of undergraduate research in the College of Science, came to RIT in 2000. His research interests include graph theory, combinatorics, integer programming and bio-mathematics.
The Trustees Scholarship Award recognizes faculty members who have demonstrated excellent records of academic scholarship at RIT over at least a three-year period.
Andreas Savakis, professor of computer engineering in the Kate Gleason College of Engineering, is an expert in computer vision, digital image processing, machine learning, mobile platforms and image watermarking and security.
Jan van Aardt, associate professor in the Chester F. Carlson Center for Imaging Science, College of Science, conducts research in the areas of the application of imaging spectroscopy and light detection and ranging for remote sensing of natural resources. This includes forestry inventory and assessment, species diversity, foliar biochemistry and scaling of remote sensing estimates.
The Outstanding Teaching Award for Non-Tenure-Track Faculty, which recognizes excellence in teaching by non-tenure-track teaching faculty at RIT who have made a significant commitment to students, was awarded to Joe Williams, lecturer and Field Experience Coordinator for the College of Liberal Arts. Williams, a former New York State Policy Analyst with the New York State Assembly, teaches introductory criminal justice courses along with courses in juvenile justice and corrections.
The Isaac L. Jordan Sr. Faculty Pluralism Award recognizes faculty contributions to enhance diversity and inclusion at RIT as well as the local community. Betsy Dell, associate professor of manufacturing and mechanical engineering technology, came to RIT in 2006 and is known for mentoring first- and second-year students in the College of Applied Science and Technology. She has organized numerous educational and mentoring activities for female students to address barriers female students face in persisting in the technical or STEM disciplines.
The Excellence in Student Learning Outcomes Award recognizes an academic degree program that is committed to best practices in assessment, improving student learning and continuous program improvement. This year's winner is the Bachelor of Science program in mechanical engineering, Kate Gleason College of Engineering. According to the nomination form, the program "demonstrates mature and sustained processes and practices for assessing student learning outcomes and supporting a culture of continuous program improvement. The program also consistently engages internal and external stakeholders in efforts to improve student learning. A unique feature of their assessment practice is a high level of faculty leadership and commitment."