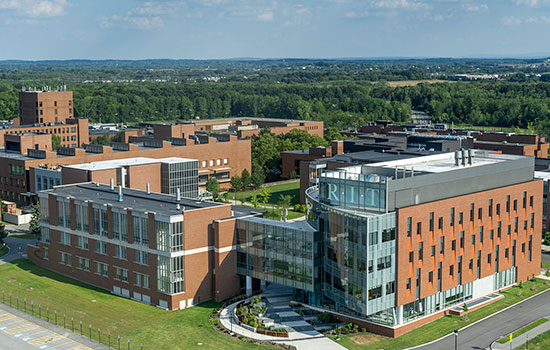 Elizabeth Lamark/RIT Production Services
Under RIT President William Destler's leadership, enrollment has reached record levels, selectivity and diversity have improved, the value of research awards has skyrocketed and geographic draw continues to widen across the U.S. and overseas. For more information, go to www.rit.edu/pride.
Here is a snapshot of RIT by the numbers:
STEM (Science, Technology, Engineering and Math): RIT is the third largest producer of undergraduate STEM degrees among all private universities in the nation. A sample of primary employers of graduates includes: Amazon, Apple, Boeing, Bose, Cisco, Deloitte & Touche, Ernst & Young, Fisher-Price, General Electric, General Motors, Google, IBM, Intel, Intuit, JPMorgan Chase, Lockheed Martin, Microsoft, NASA, Paychex, SpaceX, Toyota, Wegmans Food Markets, Xerox.
Co-operative Education: RIT annually places more than 4,100 students in more than 6,100 co-op assignments with nearly 2,100 employers across the United States and overseas.
Total Enrollment: (+19.6 percent)
2006: 15,557
2015: 18,606
Undergraduate enrollment: (+17 percent)
2006: 13,140
2015: 15,401
Graduate enrollment: (+32.6 percent)
2006: 2,417
2015: 3,205
Diverse enrollment in Rochester (+56 percent): (The number of non-white, domestic students, so students who are Hispanic/Latino, black or African American, American Indian or Alaska Native, Asian, Native Hawaiian or Pacific Islander, or two or more races.)
2007: 2,052
2015: 3,196
Female enrollment in Rochester (+16.5 percent):
2007: 4,752
2015: 5,537
International enrollment in Rochester (+99.6 percent):
2007: 1,345
2015: 2,685
Enrollment at international campuses (+91 percent):
2007: 921
2015: 1,764
Number of annualized applications for admission to RIT (+71 percent):
2007: 19,193 (graduate, transfer and freshman)
2015: 32,782
Total number of alumni (+22 percent):
2007: 97,605
2015: 119,017
Endowment (+15 percent):
2007: $661.5 million
2015: $762 million
Value of research awards (+57 percent):
FY2007: $39.6 million
FY2015: $62 million
Doctoral degrees awarded:
2007: 7
2015: 33
Imagine RIT:
First festival in 2008: 15,000 visitors, 250 exhibits
2016: 30,000 visitors, 400 exhibits
Gross space:
2007: 5,250,000 gross square feet
2016: 6,050,000 gross square feet
Number of bricks on campus:
2007: 14,867,389
2016: 15,710,693