RIT Observatory open house Dec. 7
Event is free and open to the public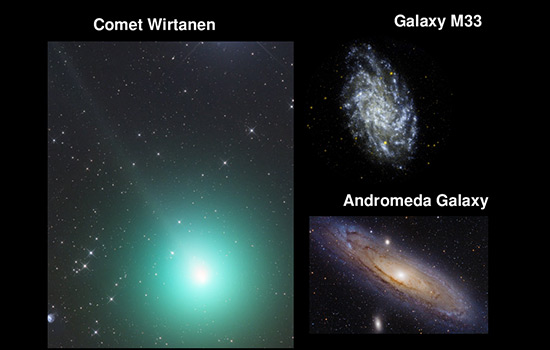 The Rochester Institute of Technology Observatory will hold its final open house of the year for stargazers hoping to catch sight of a comet.
The public is invited to use the observatory's telescopes from 7 to 9 p.m. Dec. 7. The observatory is located at 645 John St., near Bailey Road, in Henrietta.
"Comet 46P/Wirtanen will zip past the Earth at the relatively small distance of only 7 million miles in mid-December," said Michael Richmond, professor of physics and director of the RIT Observatory. "This will be one of the closest visits by a comet in years, and the comet may become bright enough for us to see it without a telescope."
Richmond and his student team will provide binoculars and telescopes if the comet is hard to see. They will also point out two fuzzy objects in the sky that are the Milky Way's closest neighbors.
"The spiral galaxies in Andromeda and Triangulum are about as bright as the comet, but millions of times farther away," Richmond said. "When you look at them, you'll be seeing light which has travelled for millions of years—just to reach your eye."
Warm attire is recommended for the outdoor event.
For directions—and to check for a weather-related cancellation—go to the RIT Observatory website at https://www.rit.edu/cos/observatory/.
Topics