RIT partners with state tourism association
Faculty in the School of International Hospitality and Service Innovation will provide professional development programming for association members throughout state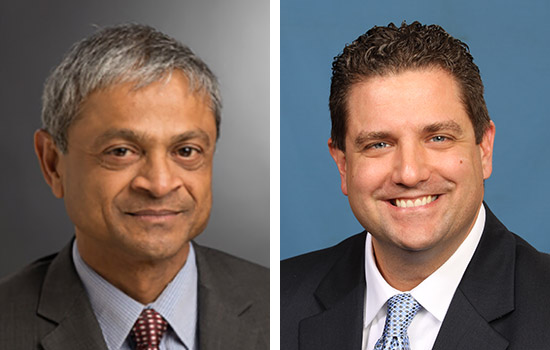 Rochester Institute of Technology's School for International Hospitality and Service Innovation has been selected as an official Education Partner of the New York State Hospitality & Tourism Association. As a partner, RIT's hospitality school faculty will provide professional development workshops in areas such as revenue management, hospitality sales and marketing and effective service coordination for association members around the state, starting in March and continuing on a quarterly basis.
"RIT is very closely connected to industry, especially in the state, and we support businesses and organizations such as the Hospitality and Tourism Association by building these important educational partnerships so that there is growth on both sides," said Karthik Namasivayam, department chair of RIT's hospitality program.
Mark Dorr, president of the NYS Hospitality Association agreed. He leads the statewide association of individuals in the hotel and lodging industry providing educational offerings, advocacy and networking opportunities for the group.
"As the state's hospitality and tourism association serving more than 1,100 members, it is an honor to be partnering with such a prestigious institution like RIT," Dorr said. "Its hospitality and tourism school is one of the most well-respected institutions in our industry, and in partnership we can educate the state's tourism industry like never before.
"We are planning robust, statewide programming that will cater to all segments of the industry. Part of our mission is to provide timely education to our members, and we were fortunate to be able to provide that benefit in partnership with RIT."
The School for International Hospitality and Service Innovation is part of RIT's College of Applied Science and Technology. Its faculty have expertise in the hotel, restaurant, tourism and service industries and can provide insights into different aspects of operations, strategy development, financial management, marketing or technology being implemented across hospitality and service organizations today. These topics and others related to industry trends will be a way to bring some of the latest knowledge and understanding of important topics in the hospitality and tourism industry to association members, said Namasivayam.
"We see our department as having an important role to play in the development and growth of the hospitality and tourism industry, by broadening access to the knowledge available at RIT. This way we are able to share whatever research we doing, whatever advances we learn of, with our industry partners."