RIT photography professors offered free annual workshop for educators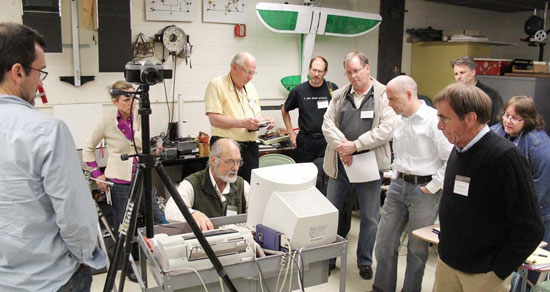 Bill Van Loo
Professors in RIT's School of Photographic Arts and Sciences donated their time and talents to share their expertise with high school and junior college educators as part of a free workshop hosted at RIT. Technology of Applied Photography and Imaging, held May 14-16, drew participants from as far away as Oman, as well as Illinois, Michigan, Pennsylvania and North Carolina.
The hands-on technical sessions emphasized topics such as digital photography, photogrammetry, color management, high-speed photography, close-up photography and special effects. Qualifying instructors were awarded fellowships to cover the attendance fee. Selection criteria included secondary or collegiate affiliation and the order of applications received.
Andrew Davidhazy, professor of imaging and photographic technology, spearheaded the volunteer initiative in the photo school. He was assisted by professors Glenn Miller, Michael Peres and Nitin Sampat.
"This year's workshop was a great success," says Davidhazy. "It's a grassroots effort that promotes camaraderie and learning among the visitors and those of us teaching. Hopefully, they can apply what they've learned in their own classrooms back home."
Susan Foss, a photography teacher from Kingston High School, in Kingston, N.Y., says: "I was given a great gift being part of the workshop and it will influence my teaching for a very long time."