RIT Veterans Day Breakfast focuses on support for veterans
More than 500 expected to honor servicemen and women and their families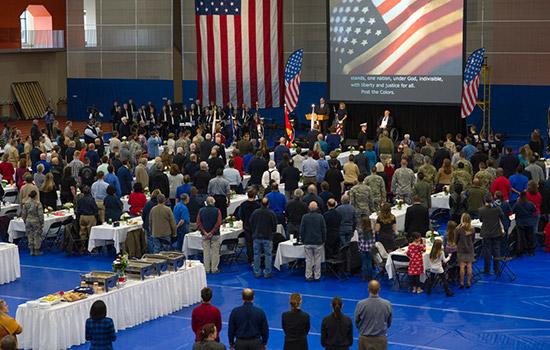 A. Sue Weisler
The annual Rochester Institute of Technology Veterans Day Breakfast will be held this year from 8 to 10 a.m. Monday, Nov. 13, in the Gordon Field House and Activities Center.
The celebration pays tribute to individuals who serve or have served honorably in uniform.
More than 500 people typically attend the event, now in its seventh year. About 200 ROTC Army or Air Force cadets attend RIT and U.S. News & World Report reported RIT among the best colleges for veterans in the country.
Barry Culhane, executive assistant to President David Munson and chair of the event committee, said RIT has a long history of accommodating the educational needs of returning veterans, dating back to the end of World War II.
"The breakfast is a way to acknowledge the service of all veterans affiliated with RIT and special guests from the Greater Rochester community who work to serve veterans and their families every day," Culhane said. "We are deeply grateful for those who protect our freedoms."
He said it also is a good opportunity for families of servicemen and women to get a better understanding of military culture.
"We share with them all types of aspects of the military, including the history of Veterans Day, the oaths they use to swear-in, and the melodies are played from the five branches," Culhane said. "And they'll get to interact with veterans from various wars."
This year, short videos will be shown that honor female veterans and commemorate the 50th anniversary of the Vietnam War.
Several groups of interest to veterans — including the Veterans Outreach Center, Gold Star Families Memorial and the RIT Veterans Club — will also attend and have information available about the services they offer. Military vehicles will be on display and uniforms from wars dating back to the Revolutionary War will be shown from the Rochester Military History Society.
Eric Wheeler, interim director of Veteran Services at Monroe Community College and a member of the RIT Veterans Breakfast committee for years, will serve as emcee.
"It's a great day to say thank you to someone who has served and a way to be patriotic," said Wheeler, who served more than 20 years combined with the Army and Navy Reserves. "People sometimes confuse Memorial Day with Veterans Day. Memorial Day is a day to honor the fallen who we have lost in the battle field. On Veterans Day, we honor the more than 20 million Americans of all eras who have worn the cloth of our nation, who have served in peacetime and served in combat."
All members of the campus community are invited to attend the Veterans Day recognition and celebration. For more information and to RSVP, contact Jolana Hollister at jbhpro@rit.edu or 585-475-7500.