RIT's Ctrl Alt Deli: Quite possibly the 'nerdiest' delicatessen in America?
Eatery's menu features 'mega byte,' 'half byte' sandwiches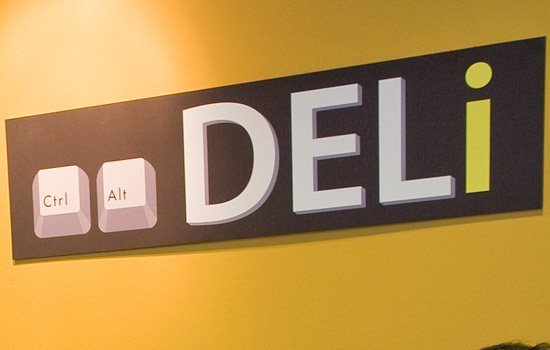 A. Sue Weisler
RIT's recently opened Ctrl Alt Deli (pronounced "Control Alt Deli") has a name that possibly only a computer geek could love—and, fortunately, RIT has no shortage of them.
The deli's moniker pays tribute to the so-called "three finger salute" (the personal-computer keyboard combination—Control+Alt+Delete—used to reboot a computer).
It has been described as "the nerdiest deli" in America. And, you know, that sounds about right. After all, not many menus begin this way:
C:\>dir Design_Your_Own_Sandwich
The eatery—featuring "Mega Byte" and "Half Byte" sandwiches—is located, appropriately, in the atrium of Building 70, home to RIT's B. Thomas Golisano College of Computing and Information Sciences. That means the 2,363 computer geeks—'er make that RIT students majoring in computer science, information technology, interactive games and media, networking, systems administration, and software engineering—help ensure a steady flow of customers.
Michael Chin, a first-year computer science major from the Bronx, N.Y., submitted the winning entry—one of eight suggestions—in a naming contest.
"I thought, how can I infuse something about computers that is easily recognizable and that everyone would know, and include something about the deli with it? Then I glanced at my keyboard, and the rest was history," Chin recounts. "I was proudest of this one."
Though he has patronized the deli only a handful of times since it opened, he plans to return.
"I've wanted to stop by for a visit and say something along the lines of, 'Hey, I named this deli. Pretty cool, huh?' But I haven't as of yet."
An announcement about the deli, "tweeted," fittingly enough, on Twitter, drew instant response.
"This might be the nerdiest deli in the United States," mused RIT alumna Kayla Zerby '05 (professional and technical communication), tweeting from Newport Beach, Calif. "Yeah, I want mayo. No, wait. Ctrl+Z. Mustard."
"At first, I thought, 'You've got to be kidding,'" adds Zerby, who recently relocated to New York City. "But it quickly switched to, 'This is genius. Talk about knowing your customers.'"
The Ctrl Alt Deli joins another on-campus outlet with a digital-age-themed name, Bytes on the Run, a "grab-and-go" convenience store that opened in the fall in RIT's Student Alumni Union.
"Nerdiest convenience store" and "nerdiest deli" in the nation? Sure, that sounds about right. And at RIT, that's a badge of honor!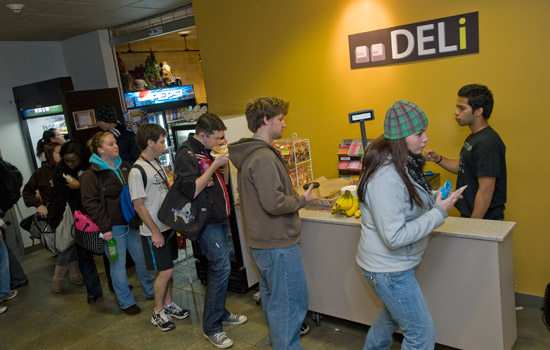 A. Sue Weisler