RIT's first alumni house set to open this summer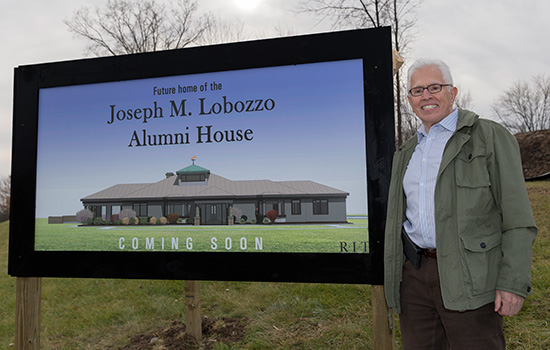 Elizabeth Lamark
RIT's first multipurpose welcome center for alumni on campus has a new name and a new location.
The 5,700-square-foot house on the west side of campus across the street from Riverknoll Apartments will be the first permanent on-campus facility built for alumni, primarily by alumni.
The Lobozzo Alumni House will feature a great room, porch, dining room, conference room, patio, library, catering kitchen and several administrative offices for Development and Alumni Relations staff members.
A business center will provide a shared work space for alumni to check their email, make photocopies, print boarding passes, obtain an alumni ID and even receive career counseling and advice as needed.
In addition, a kiosk will print step-by-step directions to locations on campus as well as help direct people to attractions in Rochester.
The facilities will be available to rent for milestone personal events such as weddings, birthdays and retirements in addition to university-sponsored chapter and reunion activities.
To date, $1.5 million has been raised for the estimated $2.1 million project.
"The Joseph M. Lobozzo Alumni House aims to provide the friendliest, most engaging, primarily service-oriented atmosphere possible, leading to a warm, life-long relationship with RIT," said Kelly Redder, executive director of the RIT Alumni House.
Lobozzo, who earned an Executive MBA from RIT in 1995, was founder of JML Optical Industries Inc. He is a member of the President's Roundtable and has served on the RIT Board of Trustees (1999-2013); advisory boards for the Center for Integrated Manufacturing Studies, Venture Creations and Saunders College of Business Executive MBA program; and several terms on the Dean's Council for Saunders College. He also served as vice chair of RIT's Powered by the Future comprehensive campaign, named the Lobozzo Photonics and Optical Characterization Lab, established the Lobozzo Executive MBA Challenge Scholarship and will establish new funds for that program.
He earned the Saunders College of Business Distinguished Alumni Award in 2001, the Herbert W. Vanden Brul Entrepreneurial Award in 2003, the RIT Outstanding Alumnus Award in 2006 and was the recipient of the 2017 NRS Award, the highest honor given by RIT's Nathaniel Rochester Society.
Lobozzo said he was impressed with the blueprints and thinks the house will be perfect to welcome alumni back to campus. He looks forward to the day when he can enjoy a cup of coffee there with other graduates.
"It is really very exciting," he said.
Redder said the original plan to renovate a home near campus would not have provided the scope and functionality needed for RIT's 125,000 alumni. The previously purchased house will be used by RIT for other purposes.
Select named spaces
Chuck '61 and Elaine Maginness Welcome Center
Bill Buckingham '64 Great Room
Brian '78 and Linda Hall Dining Room
The RIT Alumni Association Board of Directors Board Room
Bill Bjorness '86 Memorial Office Suite
A. Scott Hecker '65 Garden
Kevin J. Surace '85 Bar
Jim '93 and Audrey Janicki Porch
Bud '56, '91 and Joan Rusitzky Conference Room
Gamma Epsilon Tau Fireplace
David A. Blonski '07 and Michelle Nicholson Blonski '06, '07 Vestibule
John M. Slusser '75 Electrical and Engineering Room
J. Rollin Shoemaker '60 Business Center
To learn more
Go to rit.edu/alumnihouse.