Rochester Red Wings baseball partners with RIT/NTID, Rochester School for the Deaf for Deaf Culture Day at Frontier Field April 28
American Sign Language-inspired jersey and hat unveiled during announcement at RIT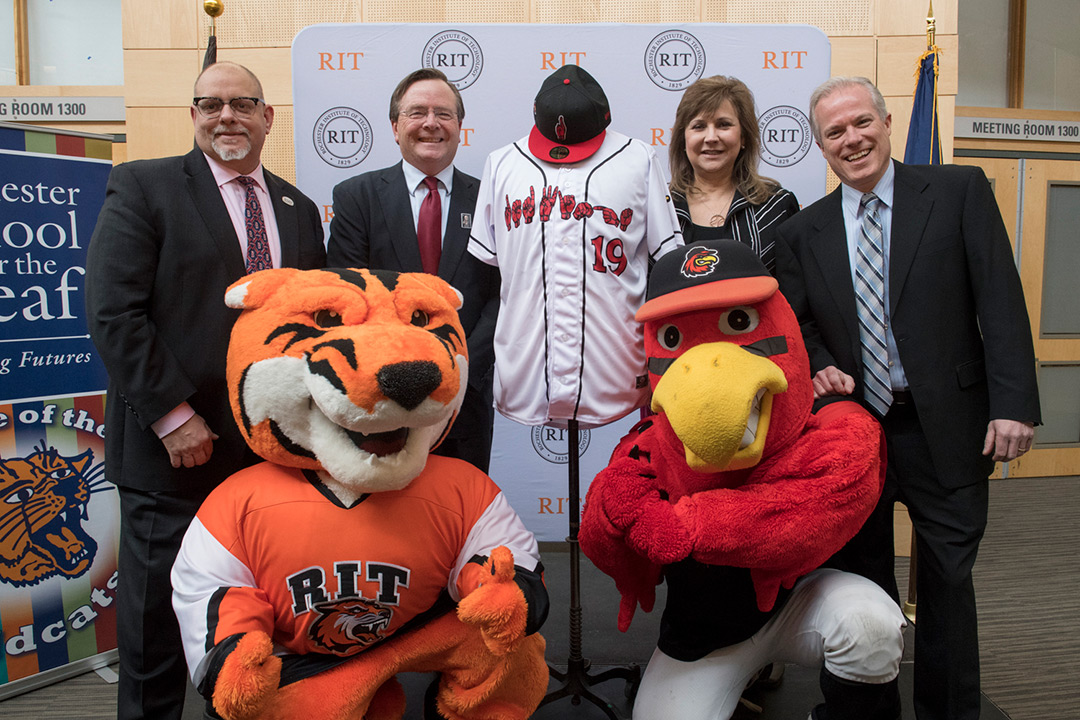 Mark Benjamin
Rochester Red Wings baseball, in partnership with Rochester Institute of Technology's National Technical Institute for the Deaf and Rochester School for the Deaf, will host the first Deaf Culture Day at Frontier Field, Sunday, April 28. The 1:05 p.m. game is a matchup between the Red Wings and the Pawtucket Red Sox.
The announcement on March 5 at RIT/NTID featured Red Wings officials, administrators from RIT/NTID and RSD, student athletes, and mascots Spikes from the Red Wings and Ritchie from RIT.
During the announcement, the Red Wings unveiled a specially designed jersey and baseball cap with "Red Wings" embroidered in American Sign Language. Replica T-shirts and adjustable caps, along with a ticket to the game, are available to fans for $20 and $22, respectively. Other merchandise, including flex-fit caps, adjustable caps, fitted caps and T-shirts, are available online or at the team store at One Morrie Silver Way in Rochester. Single tickets to the game--$7/$9/$11 using the promo code GOWINGS – are for sale at https://www.ticketreturn.com/prod2/BuyNew.asp?EventID=262647&PromoCode=gowings. Proceeds from sales of game-worn jerseys will benefit NTID and RSD.
Interpreters will be on site during the game at Frontier Field to assist fans, and there will be a "silent inning," without public address announcements, to raise further awareness about deafness.
"We are proud to partner with RIT/NTID and Rochester School for the Deaf for Deaf Culture Day so that we can celebrate the deaf community and the important impact that deaf citizens have had in Rochester," said Red Wings General Manager Dan Mason. "We look forward to hosting many deaf members of the Rochester community and their families, while also educating all fans about deaf culture. The Red Wings are excited to have our players wear American Sign Language-inspired caps and jerseys for this special game. We also look forward to welcoming back deaf citizen and former NTID staff member Ogden Whitehead to Frontier Field, who was a fixture for many years while playing the role of 'Recycleman,' the Red Wings biggest cheerleader."
NTID President Gerry Buckley spoke about the connection between deafness and baseball, as well as the rich history of Rochester's deaf community.
"Throughout history, baseball and the deaf community have been intertwined," he said. "And Rochester, which is known as 'Sign City,' is home to a historic deaf community. Furthermore, deaf and hard-of-hearing fans have been among the most loyal Red Wings followers. RIT/NTID is proud of its own history of deaf baseball players and is proud to partner with the Rochester Red Wings."
Antony McLetchie, superintendent and CEO of Rochester School for the Deaf, said "RSD has a long history with baseball. This is a very exciting time for us and we look forward to this event being part of our history with the Rochester Red Wings."
Amelia Hamilton, a third-year photographic and imaging arts major from Austin, Texas, worked with the Red Wings organization this past summer. "I enjoyed photographing the games and the fans. Rochester is a great community and being with the team helped me to get to know it better. I'm excited to see where my career will take me, but I will never forget the great experiences with the Red Wings."