Roger Harnish moonlights as the 'Dream Professor'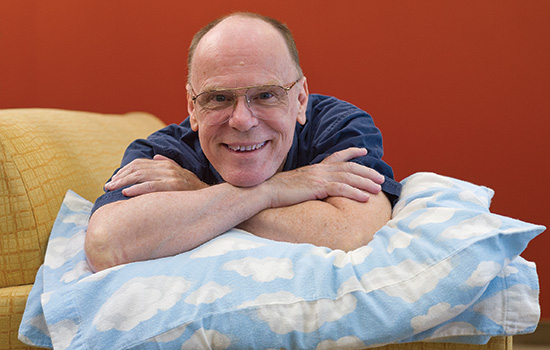 A. Sue Weisler
For Roger Harnish, falling into a deep sleep is more than just a satisfying end to a busy day. Sleep—and, more importantly, the dreams that accompany it—has actually been the 
catalyst for his research for more than 30 years, dating back to the days when he used dream interpretation in clinical psychology. 

Harnish, a psychology professor in the College of Liberal Arts, recently launched 
a new app that allows users—dreamers—
to analyze their thoughts, images and 
sensations based on decades of dream 
interpretation research. Harnish developed 
the computer program—Dream Professor—
with the help of bobeestudios.com and 
uses intuitive algorithms to interpret dreams by searching for patterns based on how 
people's minds and memories work. According to Harnish, the program not only works on nighttime dreams, but daydreams, fantasies, song lyrics and poetry. 

"I've studied dreams for decades and have taught courses such as Altered States of Consciousness for 20 years, but not until 
recently have I been able to create a reliable 
database that allows me to look at patterns within dreams," he explains. "This app was built based on the best information that we know about dreams; obviously, we can't 
interview people when they're dreaming. Dreams often involve emotional memory 
connections and actually help us store new emotional memories. Proper analysis allows us to understand basic themes and underlying issues. This program is not intended to offer concrete advice; it is, however, meant 
to stimulate insights to enhance one's life. 
These insights are meant to trigger your 
subconscious into expanding these insights into a full-blown understanding of what your dream is secretly trying to tell you."

Harnish says that his dream interpretation app is different than others currently on the market because it doesn't use standard "cookie cutter" dream dictionaries, which simply conjure up "canned" meanings. 

The user simply downloads the app and types in details of the dream. Even though the stories occurring in dreams are often 
distorted, such as riding a purple elephant 
in the middle of rush-hour traffic, which doesn't make sense, it's important to include as many visual or emotional facts as possible to receive a detailed analysis.

He also believes that with proper analysis, recurring issues like anxiety, fear, stress or 
depression can sometimes be reduced. 

Harnish cautions that there are no 
guaranteed results when using the Dream Professor app—currently available for iPhone, iPod Touch and iPad—but hopes 
users will see the app as an opportunity to look within themselves. 

Up next for Harnish is the development 
of a sleep-aid app and a stress management app. But for now, Harnish is enjoying the idea that his decades of painstaking dream 
research are now accessible to the public. 

"What's exciting is that this database 
provides unique information for each 
person by making the best guess possible based on the information that is input," 
he says. "With the advice that the app 
delivers—a theme, sub-theme and up to three ideas that are designed to stimulate 
the user's insight—the user can hopefully connect the dots, make some necessary changes or work on resolving issues that 
may be troublesome. Sometimes, when 
a person gets the insight they need, it's 
worth gold."