RPO partners with RIT for 'Final Fantasy' performance
Multimedia show features music, art from the popular video game and panel discussion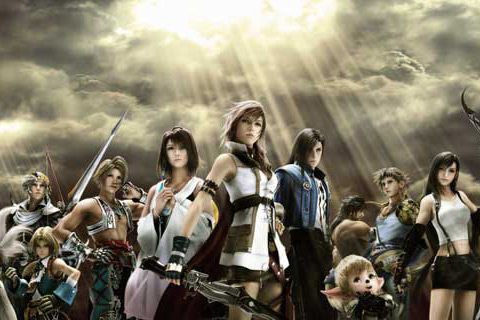 As part of a university initiative that encourages its students to experience the city's rich artistic community, Rochester Institute of Technology will partner with the Rochester Philharmonic Orchestra and The Strong to make gaming come alive through music and art.
"Distant Worlds: Final Fantasy," part of the RPO's special video game concert series, features the music of the science fiction and fantasy-based franchise Final Fantasy, which was first released in 1987 on the Nintendo Entertainment System. The event is co-sponsored by Rochester Institute of Technology's MAGIC Spell Studios, RIT's Center for Leadership and Civic Engagement's Into the ROC program, Upstate Region Interactive Technologies Hub and The Strong.
The show—8 p.m. Tuesday, Sept. 25, in Kodak Hall, Eastman Theatre—will be led by  
Grammy award-winning conductor Arnie Roth and also features exclusive HD video content from legendary game developers Square Enix. Following the performance, Shannon Symonds, curator from The Strong's International Center for the History of Electronic Games, will lead a free panel discussion alongside Roth; Rob Mostyn, Digital Games Hub Coordinator for RIT's MAGIC Spell Studios; Mark Watters, director of the Beal Institute for Film Music and Contemporary Media; and John Veneron, video game producer and development consultant.
More than 20 RIT students are scheduled to attend the concert and panel through RIT's Into the ROC program, which gives students opportunities to explore the unique challenges and cultural treasures in the greater Rochester community.
According to Kathryn Cilano, Into the ROC program coordinator, participants spend a weekday evening or a few hours on the weekend either doing community service with a local nonprofit or enjoying a local play, comedy show, museum or other cultural experience in the city.
"This event, as with many of our Into the ROC events, is inspirational for many of our students," said Cilano. "Our students aspire to engage in a world where they can blend their work and passions. They have the opportunity to witness the incredible possibilities found at the intersection of art and technology and speak directly to award-winning conductors, producers and local musicians at the post-show panel. It is hard not to be inspired by that."
Symonds said, "This concert is a perfect opportunity for gamers to hear their favorite music performed with a full orchestra and chorus. It's an especially poignant experience for Final Fantasy fans like myself. Hearing the music combined with seeing iconic in-game moments splashed on a big screen above the stage is so nostalgic. And not only does The Strong host the World Video Game Hall of Fame, of which Final Fantasy VII is an inductee, but this collaboration between the RPO, RIT and The Strong focuses attention on the vibrant, growing local gaming industry."
RIT, which is one of only three Digital Gaming Hubs in New York state, hopes to increase the economic impact to New York state by fostering innovation and creating collaborative activities that spur new games or companies as well as providing resources and mentoring to encourage students and entrepreneurs to enter the growing gaming industry. In addition, the gaming hubs will assist existing companies with gaming concepts, technologies and trends and host events focused on assisting the gaming community.
"RIT is leading the way in Rochester by fostering innovation and creating collaborative activities like this that encourage students and entrepreneurs to enter the games industry," added Mostyn. "Exciting games and digital media experiences are being created right here in Rochester and we're pleased that world-renowned organizations like the RPO help bring these experiences to life in a uniquely creative way."
RIT's MAGIC Center is a nonprofit university-wide research and development laboratory and a commercial production studio that assists in efforts to bring digital media creations up to marketplace standards and commercialization. Faculty, staff and student researchers, artists and practitioners come together to create, contextualize and apply new knowledge in a multitude of related fields and disciplines as appropriate not only to STEM or the arts and humanities, but their intersection. RIT's MAGIC Spell Studios, which will open a new building in late October, focuses on nurturing and growing new companies and publishing and distributing their projects.
In addition, RIT's game design and development program is consistently ranked among the top in the country, and its alumni are leaders across the technology industry, including in computer science, software engineering, computing and information science and imaging science.
Tickets for the concert start at $24 and are available online at rpo.org, by phone at 585-454-2100, or in person at the RPO's Patron Services Center (108 East Ave., Rochester). Use the code "RITMAGIC" to take advantage of special ticket pricing that is included with the sponsorship of this concert.
Topics