Saunders College cited in Poets&Quants ranking
RIT's business school listed in Best Undergraduate Business Schools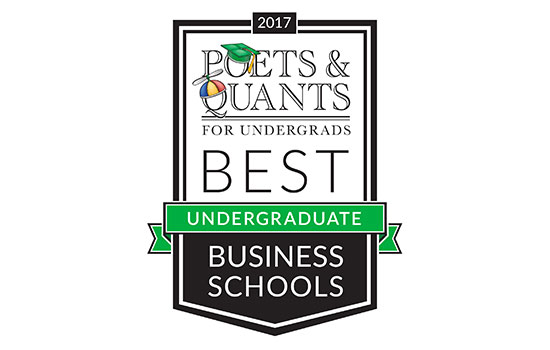 Saunders College of Business at Rochester Institute of Technology has been named one of the Best Undergraduate Business Schools 2017 by Poets&Quants for Undergrads.
Poets&Quants is the leading resource for complete coverage of business education. Saunders College was listed at No. 61, with an employment ranking of No. 16.
"We are very excited and pleased Saunders College is included in the 2017 Poets&Quants listing and that our undergraduate programs continue to garner outstanding rankings," said Saunders College Dean Jacqueline Mozrall. "Our reputation for job placement is exceptional, with an employment ranking that places us in the Top 20 nationally and the third best in New York state, behind only New York University and Cornell University."
Poets&Quants for Undergrads' second annual comprehensive study ranked the top 82 undergraduate business school programs. The rankings are based on three criteria: admission standards, the academic experience judged by alumni and employment outcomes. The list includes public and private institutions, two- and four-year business programs, schools with highly demanding academics and those that even teach business etiquette.
"This is the most thorough data-driven study of undergraduate business education ever undertaken," said founder and Editor-in-Chief John A. Byrne, Poets&Quants for Undergrads. "At a time when parents and students are confronting ever increasing tuition bills and levels of debt, the return-on-investment of a degree is more important than ever. We measure those returns and it's no wonder that more parents are encouraging their children to major in business. The best business schools are a no-brainer investment because they are reporting record or near-record starting salaries and job placement for their graduates."