Saunders graduate heads global marketing team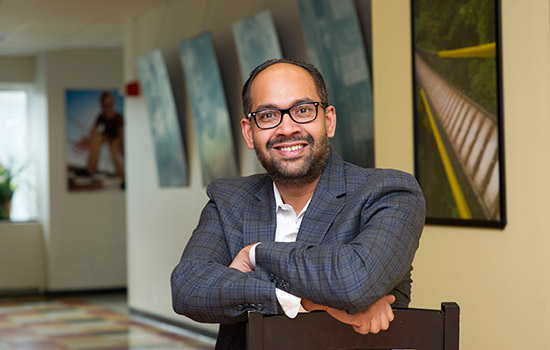 A. Sue Weisler
Just less than two decades ago, Siddhartha Bhattacharya '02 (MBA) was sitting with his dad in his home in Calcutta, India, researching U.S. graduate programs and deciding about where he might like to apply.
"At that time in India, the internet wasn't very popular, so I had mailed 80 or 90 handwritten letters to schools abroad to request program brochures," said Bhattacharya. "There was a huge sense of pride every time a nice, shiny brochure would arrive from America."
Among the many to show up on Bhattacharya's doorstep was one from RIT, and he made the decision to apply to the MBA program in 1999. With bags packed full of clothes and Indian spices, Bhattacharya got on a plane that took him across an ocean to a place he had never been.
"I remember very clearly the last moment in the airport with my family before I boarded the plane. My dad, who was a man of few words, hugged me and left me with one piece of advice. He said, 'become something,' and I carry the impact of those words with me to this day," Bhattacharya said.
Bhattacharya has certainly become something. As vice president of global marketing for the information management division of Kodak Alaris, a company that has grossed more than $1 billion in revenue, Bhattacharya oversees a global team of 45 people, as well as teams in regions including the U.S., Canada, Latin America, Asia Pacific, Europe, Africa and the Middle East.
Prior to his job at Kodak Alaris, Bhattacharya worked for Xerox Corp., where he spent over a decade serving in various positions. He became a global head of marketing for the office printing business in 2013.
By the end of 2015, he had decided that he was ready for a change. "I have no regrets from my 14 years spent with Xerox, but my time had come, and I was looking for my next challenge," Bhattacharya said.
He found that challenge in Kodak Alaris, an independent, global technology startup founded in 2013.
Kodak Alaris information management works with organizations from small offices to global enterprises, bringing together science, technology and partnerships so its clients can stay ahead of the curve. The firm currently has a presence in 27 markets around the world. Bhattacharya's office is based in Rochester.
"My contributions are really centered around managing people and our marketing team," he said. "At the end of the day, it's all about building a spirit of collaboration, removing complexity from our daily work and instilling a very high level of pride and passion when it comes to serving our customers."
Bhattacharya said that the opportunity to be a part of a leadership team that is working to bring about cultural change in a new company is exciting. "It's OK to take risks; it's not OK to do nothing. The worst thing that you can do is to sit and wait for things to happen for you," he said. "My personality is one that thrives on challenging the status quo."