STEAM competition to solve public safety problems
Top prize of $5,000 up for grabs from RIT's Center for Public Safety Initiatives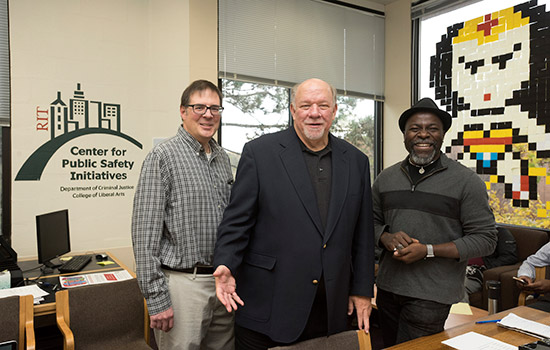 A. Sue Weisler
Rochester Institute of Technology's Center for Public Safety Initiatives is hosting a contest to encourage interdisciplinary teams of students and faculty to develop ways public safety problems can be helped with the use of STEAM-related solutions involving science, technology, engineering, art and mathematics.
A $5,000 prize will be awarded to the first-place team, and $2,500 will be awarded to the second-place team. A third-place team will also be recognized, and an additional $2,500 will be available to support travel for the award-winning teams to present at criminal justice professional meetings.
Students must make up the majority of each competing team.
John Klofas, director of CPSI, said the competition is aimed at RIT students studying STEAM courses and have them collaborate with criminal justice students to help them shape and analyze their problem and solution.
"It's a great opportunity to apply often underutilized resources to the problems of public safety," said Klofas, also a criminal justice professor in RIT's College of Liberal Arts.
Ernest Fokoué, an associate professor in RIT's School of Mathematical Sciences, said competing teams should use impactful research in data science.
"They're not going to just be playing around with mathematics, but having an impact on our community," he said.
Students involved in the competition will learn from each other and also benefit from the mentorships formed.
"By exploring a problem and attempting to come up with a solution, you really brush up on the entirety of your foundation of your knowledge," Fokoué said. "This competition is inherently multidisciplinary."
A broad variety of projects is anticipated and encouraged. Examples of possible projects include:
New software for crime analysis or data visualization.
Useful analytic methods for studying crime or justice problems.
Developing useful cell phone apps for use in policing or other criminal justice agencies.
Development of games or simulations of the operation of the criminal justice system.
Developing methods of handling police body-worn camera video including data cataloguing, storage and analysis.
Developing STEAM-based approaches to address problems such as the opioid crisis.
Prior to submission, teams must confer with members of the Center for Public Safety Initiatives at CPSIsteamprize@rit.edu for project direction.
Deadline for submissions is March 31, 2018, and winners will be announced at the Imagine RIT: Innovation and Creativity Festival on April 28.