Student Spotlight: Student gets involved and helps promote diversity on campus
Lawrence Lee, fifth-year electrical engineering dual-degree student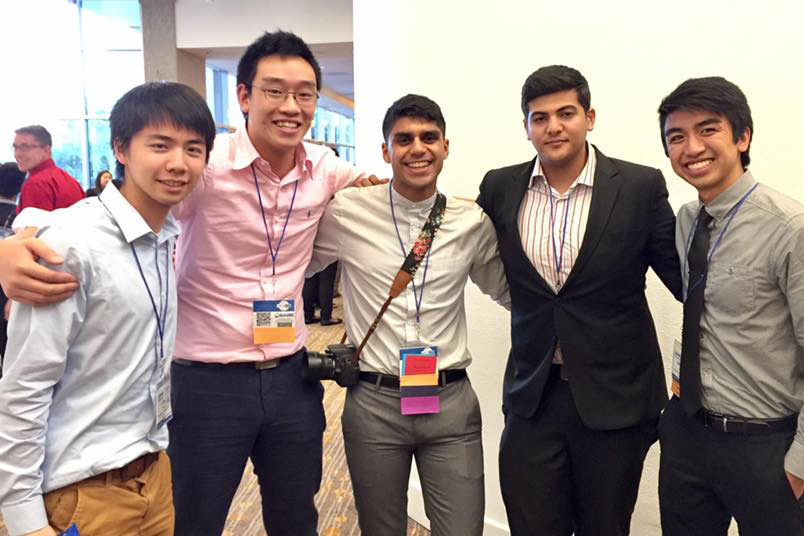 Lawrence Lee is an electrical engineering dual-degree student from Yonkers, N.Y., who is passionate about promoting diversity and helping his fellow AALANA students succeed. Now in his fifth year, Lee has been involved groups that promote diversity since his first year at RIT.
Lee joined the Society for Asian Scientists and Engineers (SASE) during his first semester at RIT. SASE is a national organization dedicated to "advancement of Asian heritage scientists and engineers in education and employment so that they can achieve their full career potential." The organization also encourages members to contribute to their local communities. Lee has served as vice president and president of the RIT chapter of SASE.
Another group Lee is involved with is Engineers of Color Creating Opportunities (ECCO). ECCO is a center dedicated to diversity initiatives that aims to "expand the representation of AALANA engineers and prepare students for leadership roles within the engineering profession." While there are no officer positions in ECCO, Lee is a student partner and MCAS student advocate who has been active in planning and participating in their events and activities since its conception in 2015.
For more information about the promotion of diversity on campus, go to https://www.rit.edu/diversity/.
Question: What are SASE and ECCO?
Answer: SASE is a national organization geared toward professional development, community service and cultural awareness. Those are the pillars that we strive to promote. They have chapters all over America that do things to support these pillars and help prepare students professionally for roles in the industry. Essentially, we are trying to improve diversity in the workforce and prepare young Asian-American leaders to go out into the workforce. ECCO is a center in the college of engineering that supports AALANA students and helps them achieve academic success. They provide guidance and resources that can help them with their classes and also challenge them and make them feel included. ECCO also focuses on bringing more diverse students into the college of engineering by showing accepted students the AALANA community within the college.
Question: What type of activities and opportunities does each organization offer?
Answer: SASE usually hosts professional development workshops, such as how to dress for success, how to do well in an interview, résumé reviews and those sorts of things. We also celebrate the different Asian holidays and try to do workshops and socials with other organizations that align with us and our goals. There are also regional and national conferences that chapters across the country come together to plan and host. We also do a lot of community service projects. Everything we do supports our main pillars. In ECCO, we do regular study jams and provide tutors. We've also hosted ice cream socials, game nights and other events which are aimed at getting the communities to come out and get to know each other so people can meet new friends and potential mentors to help guide them through college. We also host a retreat for accepted AALANA students in the spring to help persuade them to choose RIT and join our college.
Question: Why did you decide to get involved with SASE and ECCO?
Answer: Originally, I joined SASE when I was a freshman because I was kind of lost. I was far away from home, I didn't really know anything and I didn't really have a place where I was comfortable or knew people. I found out about SASE and, when I started going, I realized that what they offered really helped me feel comfortable and grow as an individual and leader. As someone who is always trying to add value to society and support my community, I thought the club was one of those things that I should definitely be involved in. When Venessa M. Mitchell, the engineering diversity director and director of ECCO, shared her idea of forming the center with other groups, I jumped on it. I joined for my own personal reasons, but I also wanted to help others feel like they belonged somewhere. I wanted to give back and help build my community, lead others and help others achieve academic success.
Question: Why do you think having clubs and centers like this are important to have on campus?
Answer: I think they're important to have on campus because it helps create a community that fosters a positive learning environment. These programs can really motivate people and help them through the struggles of college. Through these programs, people can help guide you to resources and guide you through the storms you'll face in school. It can also help retention rates and, by having more diversity, it helps generate different perspectives and solutions that, without people from diverse backgrounds, you wouldn't have. Also, if you have an AALANA student succeed, it gives others someone to look up to. It can help inspire other people who didn't think that level of success was possible.
Question: How can people get involved and help promote diversity in their own college?
Answer: I believe that promoting diversity really begins with awareness and spreading awareness. Awareness of the different clubs, organizations, centers and other resources that are on campus or in your college that are available. Once you are aware, you can help promote the different organizations and resources, and their events. Spreading awareness and telling AALANA students who don't know about these resources is very helpful; it can show them they aren't alone and that people are there to help them. The more AALANA students involved in these organizations, the larger and stronger the community, which will aid in the inclusion and confidence of many.