Students, staff visit School No. 5 today for the Giant Read
More than 40 RIT volunteers will help young students from the City of Rochester learn to read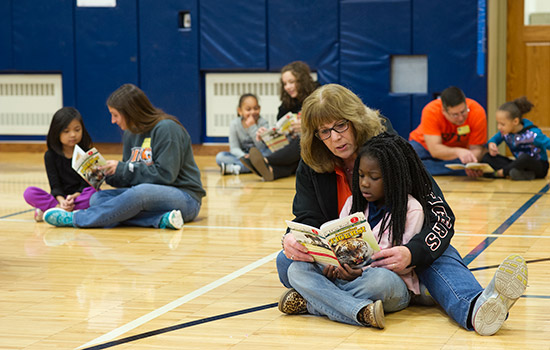 A. Sue Weisler
For the past 10 years, Rochester Institute of Technology student-athletes and library staff have been helping young students in the City of Rochester learn to read through weekly visits to John Williams School No. 5 as part of the READ: Hope in Action program. The 10th annual Giant Read, the program's signature event, will bring more than 40 of these volunteers to the school on Friday, Nov. 3.
The RIT volunteers will travel by school bus to School No. 5 to meet with the entire first grade, 55 children, to read the book Amazing Tigers. Once they finish reading the book, the first graders get a chance to let out some energy and play games with the student-athletes and library staff. At the end of the event, each student will receive a copy of the book to encourage further reading. Many of the children have few books at home, so the book giveaway is an important part of the program.
"It is just a blast," said Kari Horowicz, RIT fine arts and photo liaison/librarian and one of the organizers of the event. "Amazing Tigers is a perfect book for this event because it's written for early readers and we are the RIT Tigers. Some of the students can read it to us and some of the words they can't handle, so we help them along. It's a great experience."
The READ: Hope in Action program partners RIT Libraries staff and student-athletes with elementary school children to give them mentorship opportunities and assistance in the classroom. A handful of RIT volunteers visit every Friday during the academic year to work with students from pre-K programs to the third grade.
In addition to the weekly visits and Giant Read event, RIT will host the School No. 5 sixth graders in the spring during a visit to campus. The sixth graders will receive a campus tour, eat lunch, play games and hear about the college experience from RIT student-athletes, coaches and library staff.
The READ: Hope in Action partnership between School No. 5 and RIT began in 2007 under the leadership of Chandra McKenzie, former RIT assistant provost of academic affairs, in collaboration with Lou Spiotti, RIT director of athletics and recreation.