Three honored at Press Radio Club Day of Champions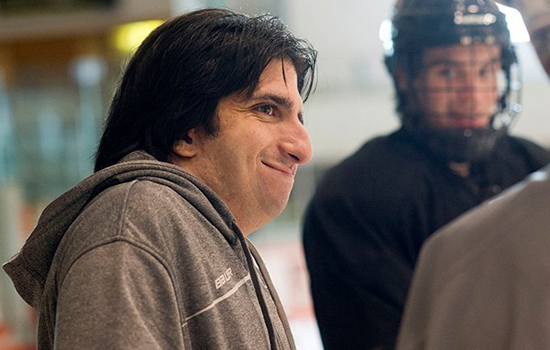 A. Sue Weisler
RIT President Bill Destler, men's lacrosse head coach Jake Coon and men's and women's hockey student manager Joe Vicario were honored at the 2015 Rochester Press Radio Club Day of Champions Dinner on May 4. Destler was named the Morrie Silver Award Winner, presented by the Rochester Red Wings; Coon, the Rochester Razor Sharks Local Coach of the Year; and Vicario, a Coca-Cola Hometown Hero.
Since Destler became RIT president, the men's hockey team made a run to the NCAA Division I Frozen Four in 2010. Women's hockey won the NCAA Division III National Championship in 2012 and made the leap to Division I later that year. The men's lacrosse team has become a perennial power, making five straight NCAA Tournament appearances, including their first trip to the championship game in 2013. In addition, several athletes have earned All-American honors and RIT student athletes maintain a grade-point average of 3.2.
In 2014, RIT opened the $38 million, state-of-the-art Gene Polisseni Center.
In his six seasons at RIT men's lacrosse, Coon has led the Tigers to a 101-14 record, five consecutive conference titles, and five trips to the NCAA Division III Tournament, including the Tigers' first-ever appearance in the national championship game in 2013. He was named Division III Coach of the Year in 2011 by the United States International Lacrosse Association and in 2013 by the Men's Collegiate Lacrosse Association.
"Part-time Joe" Vicario, a fifth-year applied technology student in RIT's National Technical Institute for the Deaf, is a manager for the men's and women's hockey teams. On Feb. 7, RIT players wore special jerseys that were auctioned off during the game with more than $10,000 going to the Testicular Cancer Foundation of Western New York, which Vicario founded. Go to www.tcafofwny.org for more information. Vicario, who has Goldenhar Syndrome and is a testicular cancer survivor, has survived 31 surgeries, including 21 before his 12th birthday.