Tiger Love: Long-distance couple reaches finish line with Michelin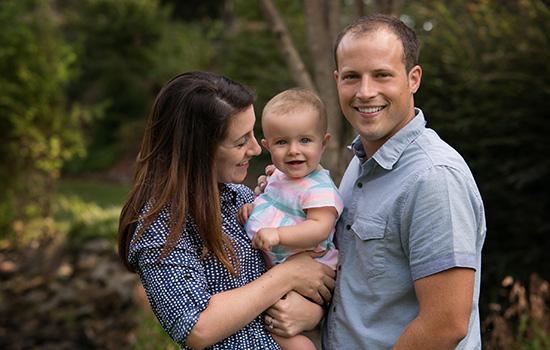 Ashley (Shoum) Gliss '09 (mechanical engineering) was focused on her senior design project, her final year of school and a new job she would start after graduation at Toyota when she first met Ed Gliss '11 (mechanical engineering).
"All along I thought it was cliché to meet someone at college," Gliss said. "I'm just going to put my head down and finish my master's degree."
But her senior design project centered around a Polaris four-wheeler that was stored in the Formula SAE Racing team's shop. And she couldn't help but notice Ed, who was on the Formula team, making the carbon fiber components of the racecar.
By that winter, Ashley said, she was smitten. And today, the two car-loving engineers who both work at Michelin in Greenville, S.C., have a 1½ year old daughter, Avery.
"From my standpoint for our relationship, it has been awesome because we are both engineers and we think in the same manner," Ed said. "And it doesn't hurt that we share the same interests and hobbies, so when we have down time we like to do the same things."
It wasn't always a smooth ride for the couple, though. When Ashley graduated, she worried about keeping the relationship going long distance for two years until Ed completed school. She even tried to break up with him on May 24, 2009, but Ed wouldn't let her. In fact, he teased her about that day and 5/24 became their special date. They were married on May 24, 2014.
The plan was for Ashley to stay at Toyota in a two-year rotational program until Ed graduated and then they would look for jobs together.
Ashley, though, had been working with Michelin in her job at Toyota and was intrigued by the company and living in South Carolina. She applied for an opening and left Toyota after a year. Ed joined her there in 2011.
Although they both work for Michelin, they are in facilities located 45 minutes apart. And although they are both mechanical engineers, their work is different. Ashley said she is more analytical and likes paper calculations. Ed prefers hands-on projects.
Ashley is a technical account manager, working directly with companies such as Mercedes, BMW and Audi to develop new technology for next-generation vehicles.
Ed started at Michelin in a tire design role and two years later became a test driver, working with companies to make decisions to create the best customized tire for new vehicles. To do this he has to be an expert driver in all conditions, including performing high-speed maneuvers in the snow. (Growing up in Akron, N.Y., and attending college in Rochester helps with that.)
At the Michelin test tracks, he can easily reach speeds in excess of 100 miles per hour.
"It is cool we can both work on a car together and talk the same language," Ashley said. "It has been a lot of fun."
Topics