Tigers can 'Thank a Giver' today
Donor appreciation event recognizes the impact of philanthropy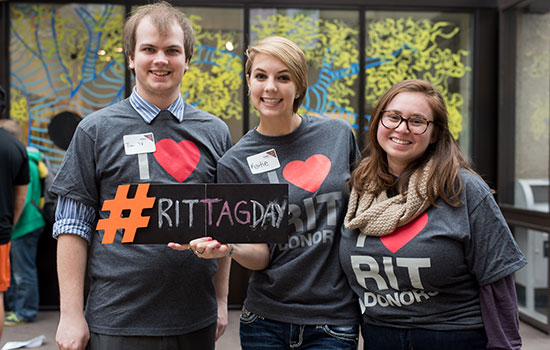 It's that time of the year when tags paint the campus for RIT's annual Thank a Giver (TAG) Day, a day dedicated to celebrating those who have given back their time, talent and treasure to the university.
To celebrate RIT's donors, The Fund for RIT is hosting a TAG Day Fair from 11 a.m. to 2 p.m. on Tuesday, Feb. 13, at the Campus Center.
At the fair, people will be able to learn about giving back, write thank-you cards for donors and participate in giveaways and other fun activities. There will also be opportunities to give to the university both online and in person.
"The main purpose of TAG Day is to give thanks to our donors and simultaneously educate the RIT community about the impact donors have on campus," said Freddie Frey '09, the director of The Fund for RIT. "It helps our current donors see how much their support is appreciated and it shows potential donors how much they could help positively impact campus by giving."
One way that Frey and The Fund for RIT are able to visibly show the impact of donors is by hanging tags on buildings, in labs and classrooms and other areas that are supported by donor generosity.
"We are a relatively young university and we are still really building that culture of philanthropy and giving back. Something like TAG Day can encourage alumni, parents, faculty, staff and friends to think about how they can give back to RIT so we can continue to grow as a philanthropic community," said Frey.
In the 2017 fiscal year, more than 14,000 donors made contributions to the university. These contributions provide support for classrooms, labs, organizations and clubs, scholarship recipients, endowed chairs or other areas on campus that may need support.
"It's inspiring seeing what people give back to. For some, it was giving back to a club they were involved in. For others, it may be for a scholarship they received," Frey said. "Seeing people make that first gift to the university is very exciting."
Fifth-year industrial engineering and sustainable engineering student Taylor Blackwell has seen what donor support can make possible firsthand.
"Donor support has had a huge impact on my RIT experience. All of the clubs, teams and organizations that I've been a part of have relied on the generosity of others," Blackwell said. "As a four-year member of the crew team, I know that without donor support we wouldn't have the resources we need to succeed. I'm grateful to RIT's donors—who support so many areas of the university—for giving students like me the opportunity to excel inside and outside of the classroom."
An easy way to participate in the TAG Day celebrations is by positing on social media with #RITTAGDAY or by submitting a thank you to show appreciation for the impact donors have on the university.