Too much RIT email? Learn how Message Center works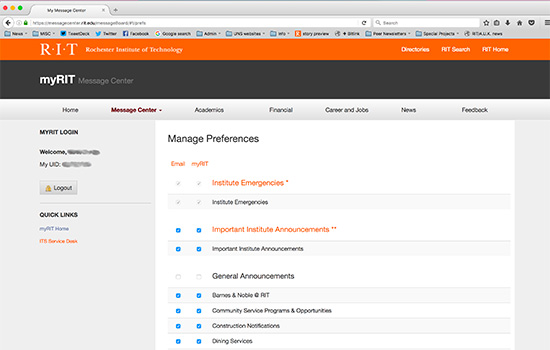 There is a better way to organize your official RIT email and other campus notifications via Message Center. The goal of Message Center is to create a trusted source of university communication that allows you to identify what messages you want to receive and how you want to receive that information.

Message Center has many key features, including the ability to opt out from receiving emails from various categories. Key features of Message Center include:
The ability to receive messages via email or view messages on a message board, or select both.
Message categories – Categories have been created to include mandatory ("Institute Emergencies" and "Important Institute Announcements") and 17 optional messages so you can get a sense of what each communication is about before reading it. This feature allows you to select the amount of communication you want to receive.
Opt-out capabilities - while you will not be able to opt-out of mandatory communications (e.g. Institute emergencies, Institute closings, etc.), you will have the opportunity to opt-out of the 17 "general announcement" categories.
You can personalize your user preferences by clicking on the "Manage My Communication Preference" in the "My Message Board" portlet found in the myRIT portal (http://my.rit.edu/).
To learn more, visit the Message Center Resource website: www.rit.edu/news/message_center.php