Ultrasound program receives donated equipment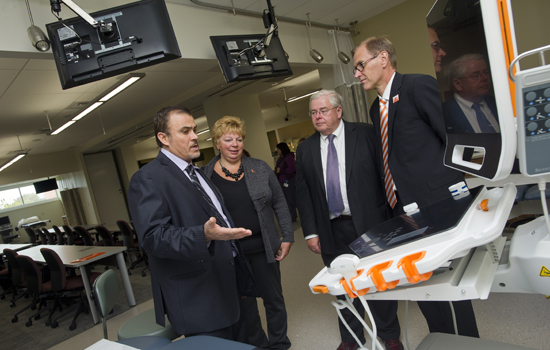 A. Sue Weisler
Carestream Health will soon install six new Touch Ultrasound systems in RIT's diagnostic medical sonography scanning suite in the Clinical Health Sciences Center. The $1 million donation, announced last year by the global provider of diagnostic medical imaging and information systems, will give RIT students an opportunity to use some of the most advanced technology in their field before they graduate.
The technological advancements, such as directional Doppler ultrasound and higher resolution, are important to the profession and patient care, said Hamad Ghazle, director of RIT's diagnostic medical sonography program. Carestream's donation will expose students to the latest technology before they start clinical internships.
"Diagnostic medical sonography, or ultrasound, provides the medical community with the means to diagnose diseases without injections of radioactive material, and without making incisions or introducing radiation to the patient," Ghazle said. "It is simply seeing through sound."
RIT's ultrasound program is one of 26 BS-degree granting programs in the country and one of only two in New York.
The new equipment departs from the traditional design of buttons and knobs and adopts a customizable touch screen with a more ergonomic setup. Some students from RIT's sonography program are already familiar with Carestream's debut imaging machine as beta testers hired to fine-tune the system's software and hardware.
EmilyAnn Fogarty, Carestream Global Product Line Manager and RIT alumna ('07 diagnostic medical sonography) recruited RIT sonography students like Gracie Walker to test the imaging system and provide feedback.
Walker and other students provided real-life experience that can't be replicated with traditional engineering tests.
"They ride over elevator thresholds and make sure it maneuvers the way in which a real user would expect," Fogarty said. "The students scan each other to ensure the system will meet the expectations of a clinical workflow and to identify software bugs or behaviors that aren't intuitive."
Walker, a senior from Brockport, N.Y., applied to Carestream's testing team after Fogarty demonstrated a cardboard model of the system. Walker spent the summer testing software. In the fall, she began her clinical rotations at United Memorial Medical Center in Batavia, N.Y., and tested the Carestream hardware on the weekends.
Walker suggested small improvements to the user interface, such as adding a hook to prevent the probe cord from draping across the sonographer's lap during a patient scanning.
"The engineers ended up adding a hook, so that was neat," said Walker, now on clinical rotation at Rochester General Hospital. "Something simple like that makes a difference."
Carestream's donation to RIT enhances the university's ultrasound curriculum and provides valuable experience for students, Ghazle said. "Partnerships and donations like this allow our students to be active participants in the development and advancement of new technology and at the forefront of ultrasound education and technology."