University Gallery hosts exhibit examining truth in imagery
Rebecca Aloisio's 'OBJEKT: Matter in the Digital Age' on view until Oct. 6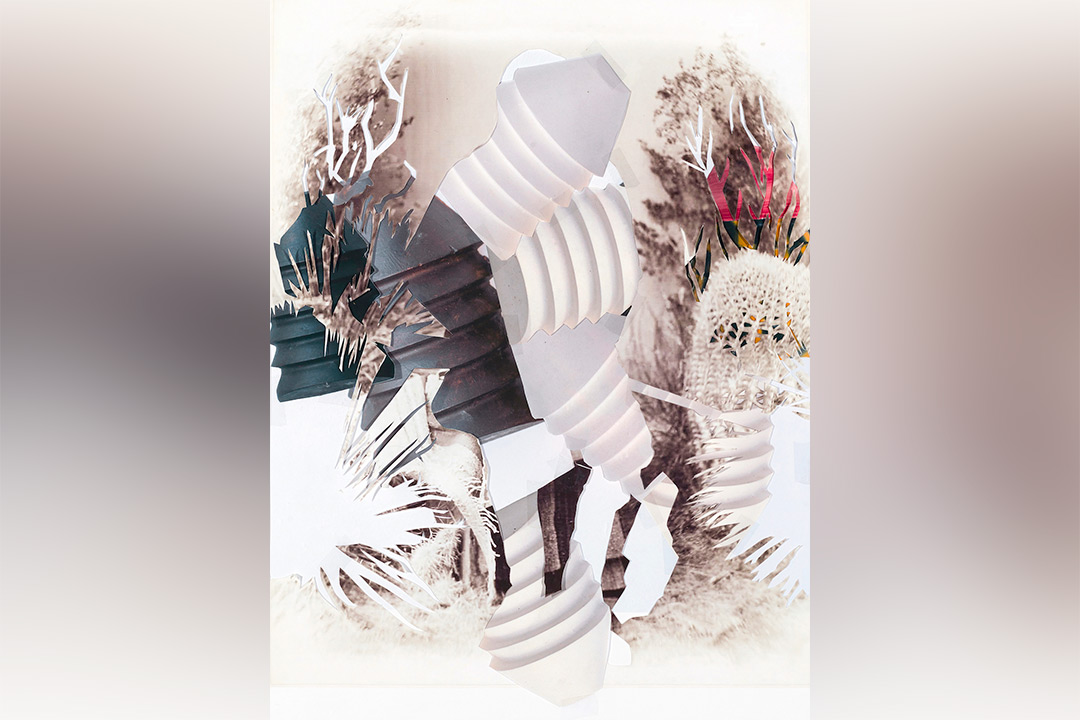 Rebecca Aloisio
An exhibition of new works by a lecturer in Rochester Institute of Technology's School of Design is examining the notion of truth in imagery, with a particular focus on image construction, simulation and staged realities.
Rebecca Aloisio's "OBJEKT: Matter in the Digital Age," is now on display at RIT's University Gallery through Oct. 6. An opening reception is scheduled for 4:30 to 7 p.m. on Friday, Sept. 14, inside the Booth Hall gallery.
"OBJEKT" features large-scale works created by the RIT artist without any digital generation. "The process involves any technologies used in the creation of physical imagery, including cameras, scanners, papers, inks, paints, printers and more," said Aloisio, who started teaching at RIT as an adjunct professor in the College of Art and Design, formerly the College of Imaging Arts and Sciences, back in 2014.
In her artistic statement for the exhibit, Aloisio states, "My current work involves the manipulation of forms through digital appropriation, deconstruction and pastiche. The images negotiate between the flat and the spatial incorporating a variety of media ranging from drawing, collage, painting and printing. I remake or repurpose representational or objective information in an effort to make an original 'thing': something seemingly tangible and beyond abstract. The images create visual tension emergent from the overlap of illusion with representation—with what is seen as opposed to what is understood."
"We are confronted daily with constructions of truth in the form of images, especially through social media," she adds. "These politics of vision quietly shape our history and actions while blurring the line between fact and invention. Navigating this paradigm is at the core of my practice. I want to make images that speak beyond abstraction. I want viewers to be accountable, questioning and challenging the authenticity of what they are seeing."
Aloisio is particularly excited about her piece on view, titled Conquered, No. 1.
"Unlike my other works—which are composed completely from ubiquitous objects or patterns—this piece contains historical photographic information," she said. "I think it may be the beginning of a new series of work looking at historical bias through staged documentation."
She chose the German spelling for the word "object" in the exhibition's title because she likes its "simplicity and the phonetic quality."
"I want viewers to be sensitive to the process used to create the work, to not take things for granted," Aloisio observed. "I think this title speaks to that in a small way. I am also a huge fan of contemporary German painting."
Aloisio received her BFA from the Cleveland Institute of Art and an MFA from Syracuse University. She has exhibited work nationally and internationally, including the Agora Gallery in New York City and Leeds College of Art in the U.K. Additionally, Aloisio has shown at several venues throughout New York state, including the Memorial Art Gallery, the Ithaca Print Shop, Hallwalls Contemporary Art Center in Buffalo, N.Y., and the Schweinfurth Art Center in Auburn, N.Y. Her work also has been published in ACS Magazine, based out of Chicago, and Studio Visit Magazine in Boston.
She is thrilled to have her inaugural showing at University Gallery.
"I am incredibly honored to have this show up in University Gallery at RIT," Aloisio said. "It is a beautiful space and I am very grateful to be able to share my work with a community full of gifted faculty, staff, students and peers."
About RIT's University Gallery
The University Gallery, located on the RIT campus in James E. Booth Hall, features exhibitions comprised of works that inspire creativity and spark the imagination. Exhibitions showcase work from RIT's extensive archives, the work of faculty and professional alumni as well as traveling exhibitions. Gallery hours are 9 a.m. to 5 p.m., Monday through Friday, with the addition of Saturday from noon to 4 p.m., starting Aug. 27. For information about this exhibit and others planned in 2018, email UniversityGallery@rit.edu or call 585-475-2866.