University Gallery hosts exhibit of prints from space
'Portraits of a Planet: Photographer in Space' features NASA astronaut's otherworldly images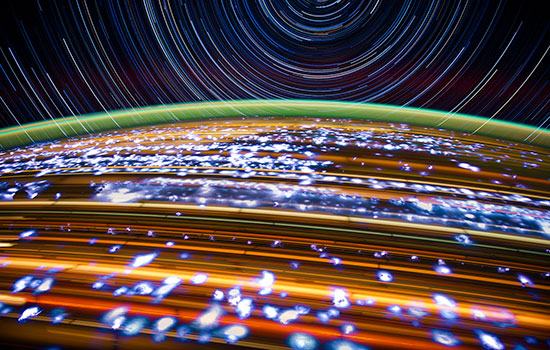 Donald Pettit
An exhibition of otherworldly photographic images taken during NASA astronaut Donald Pettit's time aboard three space flights will canvas the walls of Rochester Institute of Technology's University Gallery through the end of April.
"Portraits of a Planet: Photographer in Space" features large-format views of cities at night and planetary phenomena that Pettit captured from aboard the International Space Station. The exhibit soars into University Gallery, in the College of Imaging Arts and Sciences' (CIAS) James E. Booth Hall, until April 28.
Pettit will visit campus to publicly open the exhibit at 3 p.m. Thursday, March 22. Alumnus Peter A. Blacksberg '75 (photography), instrumental in arranging the exhibit and Pettit's campus visit, will join him. The reception is free and open to the public.
Photography has been a fascination of Pettit's since picking up his first camera when he was 11 years old.
"As an explorer, you are obligated to describe your experiences and discoveries to those who didn't have the opportunity to go along," Pettit wrote in his artistic statement for the exhibit. "Space is no different. On space station, we were encouraged to take as many pictures as we could. Photographs are central to sharing our stories with everybody on our planet."
At 62, Pettit is NASA's most senior active astronaut. A veteran of two long-duration stays aboard the space station and one space shuttle mission, he has taken nearly a half-million photos to capture the awe of his journeys.
Pettit's innovative photographic work and passion for low light photography has changed the way we see Earth from space. The RIT exhibit features more than 40 of his photographs, some mural sized, curated by Pettit and Blacksberg.
"Don Pettit's efforts to enhance photography from the International Space Station represent a unique mixture of art and science," said David Messinger, professor, Xerox Chair, and director of the Chester F. Carlson Center for Imaging Science. "From his photographs, we can better understand the complexity of the Earth system, the atmosphere, the solar system and the imprint of humans on the planet. We can also see the scientific and engineering complexity of the space station itself—a modern marvel of technology. These photographs show how imagery can be used to awe and educate at the same time."
From star trails and terrestrial lights to air glow and auroras, Pettit captured many of his images using time-lapse and long-exposure photography. RIT's Imaging Systems Lab displayed technical mastery of its own in imaging, printing and mounting Pettit's photos to his exacting specifications.
Wendy Marks, gallery director, called the exhibit "truly groundbreaking for RIT's University Gallery and perfectly embodies the university's mission to seek preeminence at the intersection of technology, the arts and design."
"The monumental photographic images take command of the soaring illuminated space that is University Gallery," Marks said. "The exhibition is awe-inspiring and transports the viewer into space—a place only a few humans have experienced."
Pettit's daylong visit to the RIT campus Thursday will include talks with students, faculty and staff in CIAS, the Chester F. Carlson Center for Imaging Science, the College of Science and the School of Individualized Study.
In addition to events related to the gallery exhibit, Pettit will donate four "zero gravity drinking cups" to the Product Timecapsule archives of RIT's Vignelli Center for Design Studies. During experiments with capillary action in microgravity, Pettit and Mark Weislogel of Portland State University invented a way to sip liquids from an open container formed like a teardrop. The cup represents the first patent granted for something invented in space. Pettit used a subsequent design for handmade porcelain ceramic versions now used on the space station.
Pettit will conclude his RIT visit by sharing his experiences from 370 days of space travel during his presentation, "Techno Stories from Space," which will take place from 5 to 7 p.m. at Ingle Auditorium inside the Student Alumni Union. His talk is free and open to the public.
About RIT's University Gallery
The University Gallery, located on the RIT campus in James E. Booth Hall, features exhibitions comprised of works that inspire creativity and spark the imagination. Exhibitions showcase work from RIT's extensive archives, the work of professional alumni as well as traveling exhibitions. For information about this exhibit and others planned in 2018, email UniversityGallery@rit.edu or call 585-475-2866.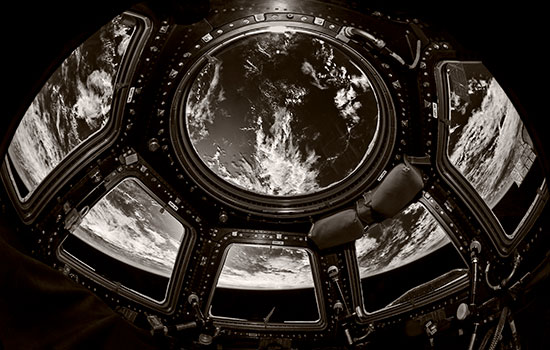 Donald Pettit