Web site links RIT research with corporate partners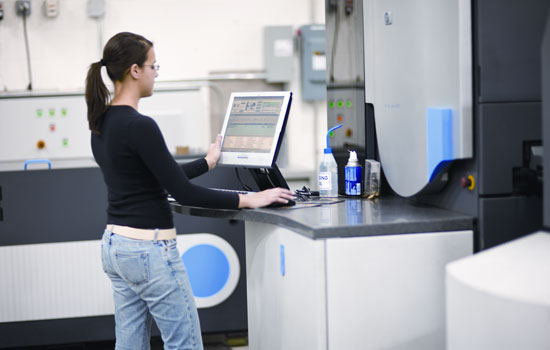 John Myers
Since the introduction of the Corporate R&D program in 2008, RIT has expanded its corporate research to encompass a broad range of research activities. To provide companies with an easy connection to RIT and present the range of project approaches, a new Web site has been created.
The Corporate Research Web site, www.rit.edu/research/corporate, provides an overview of the types of research, faculty involvement, student involvement and intellectual property ownership.
"RIT offers multiple vehicles to promote research partnerships and our new Web site provides information on how to best utilize these programs to enhance scholarship and technology transfer," notes Donald Boyd, vice president of research.
Three key research programs are offered by RIT—research services, corporate research and development and sponsored research.
The Research Services program includes short-term research projects involving evaluation or analysis, conducted by undergraduates with supervision of faculty or staff. Intellectual property in these projects is not anticipated. The Printing Applications Laboratory in the College of Imaging Arts and Sciences is working with substrate suppliers, under Research Services agreements, to evaluate the performance of different types of media on HP Indigo printing technology.
In the Corporate R&D program, research projects address a specific company problem and typically involve master's students working directly with the company with mentoring from faculty. Under these agreements the company owns the intellectual property, but RIT retains the right to publish and present the research findings. For example, Kathleen Lamkin-Kennard, assistant professor of mechanical engineering, and two mechanical engineering students are working with Johnson & Johnson Ortho Clinical Diagnostics on a Corporate R&D project to develop a modular simulation platform to better simulate antibody/antigen reactions.
Sponsored Research addresses long-term research goals, which advance a specific field or technology and usually involve Ph.D. students working with faculty. All intellectual property developed through the research is owned by RIT and licensed to the sponsor. For the past five years, Karl Hirschman, Micron Professor of Microelectronic Engineering, and a team of graduate students have been conducting a sponsored research project with Corning Inc. to advance the development of silicon-on-glass technology for use in flat-panel displays.
For additional information about Corporate Research opportunities or to discuss a possible corporate partnership, contact the Office of Research Relations at 475-2698.