Words matter: Making the alma mater more inclusive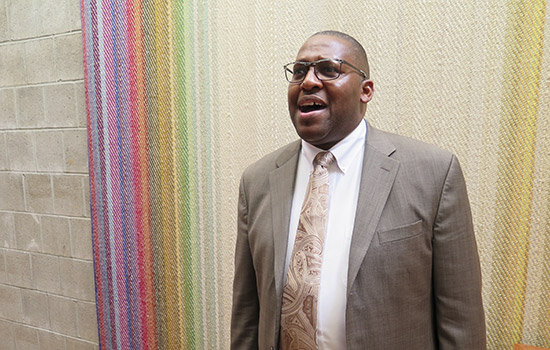 RIT recently made a small change to the lyrics of its alma mater to make a big statement about gender inclusion.
Nearly 25 years after it was first written, the song's lyrics were changed for the first time to be more inclusive of the transgender, agender, genderqueer, and nonbinary members of the RIT community.
The lyrics in the second verse of the alma mater have been changed from "We are the men, the women of the future here at RIT" to "We are the ones, the people of the future here at RIT." The song is traditionally sung at RIT's most important events such as commencement and convocation.
"This is a great and necessary change that I wholeheartedly support," said Clar Charron, a fifth-year computer science student from Rochester and member of Tangent, a student organization that is a forum for transgender, genderqueer and nonbinary members of the RIT community. "Gender-neutral language is incredibly important. I also think that an important step for RIT is to ensure that gender-neutral language is not only used to describe the entire student body, but individual students too; a lot of faculty and staff will readily say 'he' or 'she' to refer to a student they've seen once or never before, which can be really stressful and frustrating for people who already have enough on their plates."
RIT does not track official statistics on the number of students who identify as transgender, genderqueer or nonbinary, but based on membership of clubs such as Tangent and Spectrum, estimates suggest that they make up 1-2 percent of the more than 18,000 student population.
The lyrics change was first suggested by a staff member during a Staff Council meeting. The group then brought the proposal to President Bill Destler and the executive committee of University Council. University Council approved the change in January.
Assistant Vice President for Academic Affairs Sue Provenzano researched the history of the song and noted that "the original songwriter seems to be a mystery." The song was written for RIT as noted on the official sheet music from 1993 and the composer is listed simply as "Associate Professor, RIT." Keith Jenkins, interim vice president and associate provost for Diversity & Inclusion, penned the new lyrics.
Jenkins was the first to sing the new lyrics on March 24 at a celebration of the life of Provost Emeritus Stan McKenzie, a beloved member of the RIT family and former senior vice president for Academic Affairs. Jenkins said performing the new lyrics at McKenzie's memorial "was a fitting tribute to Stan in terms of his love for and commitment to RIT. Inclusiveness was at the forefront of everything he did."
Video extra
Hear Keith Jenkins sing the new lyrics at bit.ly/RITAlmaMater.