Nearly 400 students attend RIT/NTID job fair
Lyndon Baines Johnson Hall packed with students and employers during 15th annual event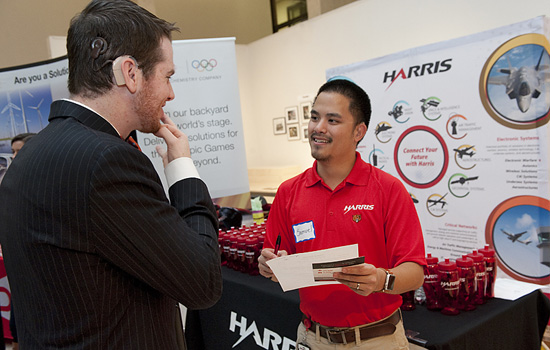 Mark Benjamin/NTID
Representatives from more than 45 local and national corporations, federal agencies and non-profit organizations met with nearly 400 deaf and hard-of-hearing students—who are also prospective employees—at the 15th annual job fair on Oct. 21 at Rochester Institute of Technology's National Technical Institute for the Deaf. The event was held in Lyndon Baines Johnson Hall on the RIT campus.
Company representatives conducted "on the spot" interviews with NTID students who are vying for cooperative education positions or full-time employment after graduation in fields such as business, finance, graphic design, engineering, computing, and more. Interpreters were available at each table, and in many cases, the company recruiters were NTID alumni. Companies included Microsoft Corp., Lockheed Martin, Defense Finance and Accounting Service, Central Intelligence Agency, U.S. Department of Defense, Dow Chemical Co., Excellus BlueCross Blue Shield, Harris Corp., The Learning Center for the Deaf, The Bank of New York Mellon Corp., and the University of Tennessee-Knoxville, among others. Employers also had the opportunity to participate in a panel discussion.
Maya Ariel, a 2012 business management graduate from RIT's Saunders College of Business, attended the job fair as a recruiter for the Defense Finance and Accounting Service. As a former student, Ariel was selected shortly after graduation for the organization's Leaders in Motion program, a development program in which participants rotate through four different departments at DFAS before being permanently placed. Today, she is a financial systems analyst and returned to NTID's Job Fair to search for future employees in the accounting, finance, human resources or information technology fields.
"My advice for students is to keep all of their options open, take advantage of every opportunity they can, and get a foot in the door," said Ariel. "I'm a proud RIT graduate and based on my experience, I know these students are well prepared to enter the job market."
Joao Paulo, a second-year accounting technology student from Brazil, was searching for a co-op placement during the job fair. He said he was nervous at first, but was able to relax and put his best foot forward.
"I came to the job fair for the first time today and I didn't know what to expect," said Paulo. "I just tried to be myself and worked my way through it. I spoke with about seven different companies, including Prudential and The Hartford, which both seemed like good matches. I made my way through the tables and I tried really hard to make a good impression and be relaxed yet excited at the same time."
Samuel Sandoval, a 2013 information technology graduate from Golisano College of Computing and Information Sciences, returned for the second time as a recruiter for Harris Corp. He told students to be persistent.
"The employees at Harris Corp. didn't really have much exposure to deaf culture," he said. "Now, in addition to my job as a software engineer, I teach a sign language class to the employees every Monday."
NTID's Center on Employment also recognized three companies who consistently hire deaf and hard-of-hearing individuals. One of this year's local honorees was The Gleason Works.
Alicia Kalen, a human resources generalist at The Gleason Works, has worked with NTID computer integrated machining technology students as part of their summer internship program.
"This has been a very positive experience," said Kalen. "We have established a relationship with NTID and our goal is to create a talent pipeline for advanced manufacturing positions at Gleason. The students are graduating with an excellent foundation in machining, blue print reading and geometric dimensioning and tolerancing. They learn how to work as a team—toward the same goal—and they have a good idea how a company is run. Today, I met students who are friends with five students who worked for Gleason last summer. The good word is spreading and Gleason is excited and happy to be here."
Other companies recognized were Purple Communications, headquartered in Rocklin, Calif., and Seattle, Wash.; and University of California—San Diego (Moores Cancer Center).
"We have many deaf and hard-of-hearing alumni employer representatives who attended the job fair who are role models for our students and recent graduates," said John Macko, director of NTID's Center on Employment. "The NTID Job Fair allows these alumni to connect with our students and to demonstrate what it takes to be successful in the workplace. Employers continue to want highly qualified employees who bring the necessary skills and who will fit into the company culture and contribute to the company's success."
Topics