RIT/NTID presents 'People of the Third Eye' Nov. 8 and Nov. 15-17
Collection of creative pieces showcases deaf experiences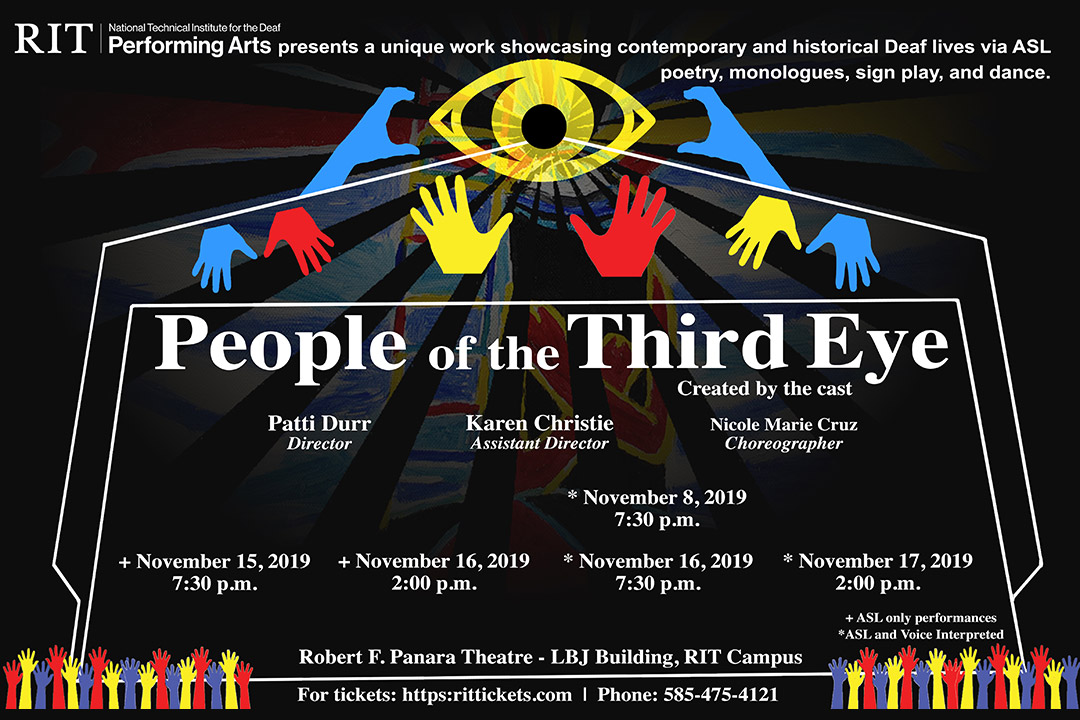 Almost 50 years ago, the National Theatre of the Deaf unveiled one of its most well-known performances – My Third Eye, consisting of ensemble pieces showcasing unique expressions of deaf experiences and sign language play. Inspired by this now-classic work, People of the Third Eye, which will be presented by Rochester Institute of Technology's National Technical Institute for the Deaf, is a collection of pieces created collaboratively by cast members.
People of the Third Eye runs at 7:30 p.m. Nov. 8, 15, 16 and 17, and 2 p.m. Nov. 16 and 17 at Robert F. Panara Theatre, Lyndon Baines Johnson Hall, on the RIT campus. American Sign Language with English voice interpretation will be during the 7:30 p.m. performances on Nov. 8 and Nov. 16, and the 2 p.m. performance on Nov. 17. ASL-only performances are at 7:30 p.m. Nov. 15 and 16.
Audiences will experience various genres of ASL performance art and poetry, personal narratives, creative storytelling and dramatic monologues. Woven into the action on stage will be film clips, live painting and dance numbers.
During the performance, special guest artist Nancy Rourke will engage in live-action painting to complement the story. An RIT/NTID alumnus, Rourke is an internationally known deaf artist.  Her work is noteworthy for its use of bold primary colors and deaf themes expressing affirmation, resistance and liberation. She has been an artist-in-residence at many schools for the deaf nationwide. 
"The production is unique in that rarely is there a production created by a Deaf cast with Deaf direction and choreography," said Patti Durr, associate professor at NTID and show director. "People of the Third Eye promises to be a contemporary feast for the eyes and heart by giving tribute to past classics, interpreting literary works and creating original pieces."
Tickets are $5 for students, youth and senior citizens (60+), $10 for RIT faculty/staff/alumni, and $12 for the general public. They are available at the RIT University Arenas box office in person or online, by calling 585-475-4121 (voice), or by email at arenas@rit.edu.
Topics