Success Stories Feature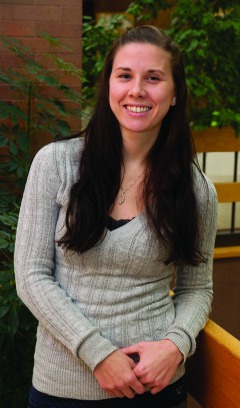 Persistence is at the heart of what drives Tiffany Panko to succeed in medical school and in life.
The Webster, N.Y., native earned a bachelor's degree in Multidisciplinary Studies, with concentrations in Psychology and Premedical Studies, as well as an MBA at RIT. Before entering medical school, she also became a certified nurse assistant at BOCES #1. She now is in her second year of studies at the University of Rochester School of Medicine.
"I really enjoy medicine because it combines hard science—biology, anatomy, etc.—with the soft science of caring for people," she says. "While there are a lot of ways to help people, I really enjoy medicine. That's what ignites my fire to do what I do, and it's what has gotten me this far."
Panko cites skilled interpreters who are a good fit for her needs and for the course content, and the use of transcription services in science lectures as keys to her success. Another key is advocacy.
"I learned to self-advocate early in my life," she says. "I have very supportive parents who are great examples of what deaf people can accomplish. They worked hard to make sure that I had all the support services I needed in high school. I'm very fortunate that the University of Rochester Medical Center has a team of interpreters who make sure that my experience is as close to smooth as it can possibly be—it is still medical school, after all!"
The future Dr. Panko's advice to others reflects the way she lives: "Be persistent! If you know you want something, don't stop chasing your dreams. Volunteer along the way—for things both related and unrelated to your career goals—to make sure you want to pursue medicine and to show the applications committee that you know what you want, and also to give back to the community!"
This story appeared in the Fall/Winter 2013 issue of FOCUS Magazine.