Testimonial
Advancing the Exceptional - Student Profiles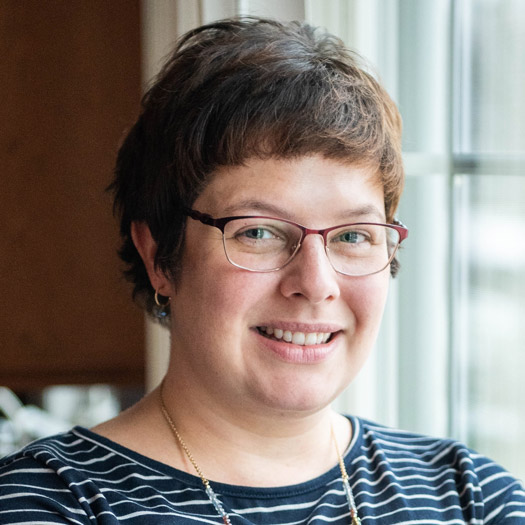 Kathrine Ehrlich-Scheffer
Professional Studies MS '20
Earning this degree has launched me into research specific to my job. I have published papers, presented at conferences, and am working with other similar programs around the country.
I always wanted to go back to school to earn my master's degree, but I was never exactly sure where to start. I followed a new pathway to get an RIT master's degree through the RITx MicroMasters program on edX.
Why Masters' in Professional Studies?
I looked around at several degree options prior to considering this one. It was no contest that the interdisciplinary degree was the right choice for me. With the MS in professional studies I was able to craft a degree that made sense for taking on the challenges I was seeing in my job. No other degree program came close to the combination of concentrations that I felt this role needed: Project Management, Research and Analytics, and Group Development and Leadership. I stand by the choices I made and was very satisfied with the experience. I draw upon all three concentrations in my daily work as a Director, assessing current programming, planning and implementing new programming, and managing a staff of students and volunteers.
From MicroMasters to RIT Masters
The transition from the MicroMasters program was fairly seamless. Being a verified MicroMaster's program learner meant that I had an edX online experience that was very similar to RIT online classes, including access to the instructor and tech help when necessary (though needing it was the exception, rather than the rule). I used the edX experience as a "test." Before applying to and committing to a full master's degree, I wanted to be sure that I could handle the workload on top of my Director's job. Beyond that was the reality that I had never pursued a degree while wearing the hats of wife and mother as well, and the MicroMasters program experience allowed our entire family to work out supports and settle into a "new normal" that would be required for my completion of a full degree. When I began the RIT coursework it was seamless. I had already determined and put into place what was required for success thanks to the MicroMasters program.
Balancing Act
Juggling the wife/mom/Director/student "balls in the air" was the hardest part of the entire experience. That said, it was far from impossible. The MicroMasters program was a fantastic way to "dip a toe in" to study online, and figure out how best to set myself up for success going forward into the master's degree program. I planned for certain times of the week to devote to my studies, and my family chipped in more around the house to support me. My advice is to be open and up front with people in your life: family, friends, direct reports, your boss, etc. I asked for and received the support and understanding I needed from all of them, which helped me succeed.
A Valuable Experience
My courses in both the MicroMasters program and the RIT degree program were quite rigorous, and there were times that I was beyond my comfort zone. The ability to customize the Professional Studies degree was probably the most valuable aspect of the experience. It required a great deal of intentional thought and reflection on what I needed to do to get where I wanted to go and why that was important. It's exhilarating to have that kind of freedom, but it comes with a lot of responsibility and intention to make sure that your plan is a sound one.
Career Impact
Earning this degree has launched me into research specific to my area, specifically on Gen Z student engagement declines. Because of this work, the Women in Engineering program is being refreshed for a new cohort of students, and it will be exciting to plan, implement and assess these changes as they go forward. I've published papers and presented at two national research conferences. This work is spawning potential research collaborations with other women in engineering programs around the country.