Performing arts interest crescendos at RIT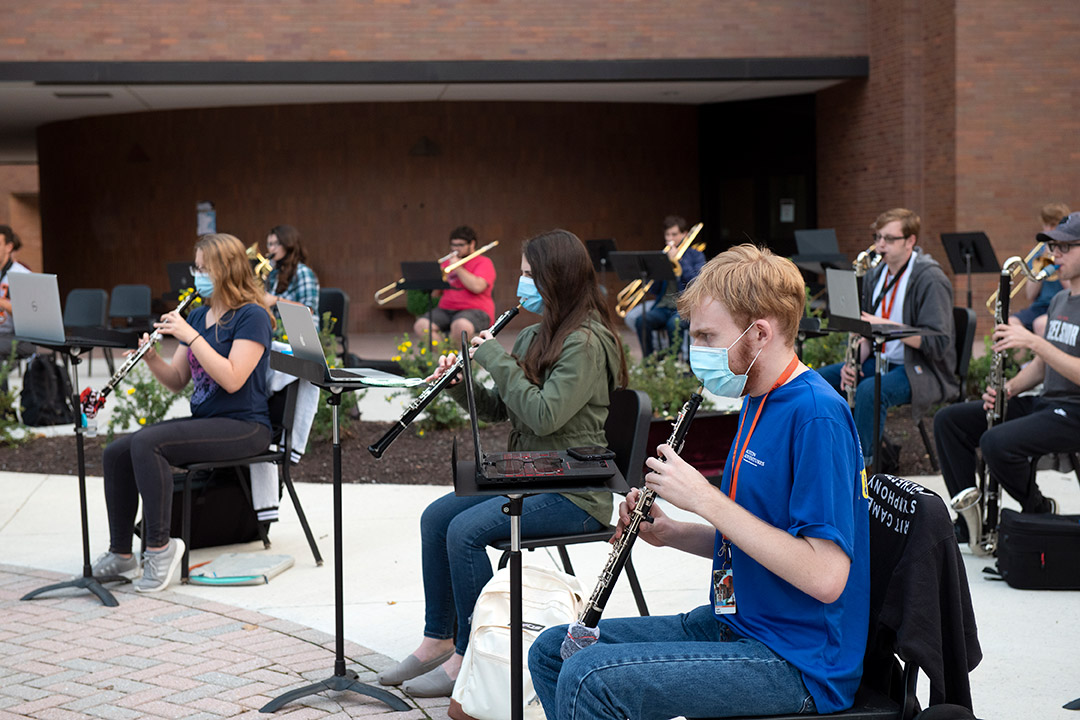 A. Sue Weisler
Despite some restrictions due to COVID-19 precautions, interest in performing arts at Rochester Institute of Technology has continued to thrive for more than 1,000 students participating in RIT-recognized performance groups and activities.
RIT has 36 student clubs that involve music, theater, and dance that are continuing to meet in person and/or online.
Private applied music lessons are being given to students in person and virtually, and small instrumental, vocal, and dance ensembles have been able to practice together as well, maintaining RIT's safety guidelines. Master classes are offered online, as have music composition and production classes such as Electronic Music Production, Composing for Media, and Composing for Video Games.
Larger groups, such as the RIT Jazz Ensemble, RIT Philharmonic Orchestra, and RIT Concert Band, have been limited to only 50 members when they practice in the Fireside Lounge and Ingle Auditorium. But they have been practicing in smaller groups, and even together outside when weather allows, where they can maintain safer distances with more than 50 participants.
And the RIT Singers have been spreading out in Allen Chapel as well as using specialized singing masks that allow for safe singing.
"As with most things, COVID-19 has impacted the performing arts and entertainment world, necessitating changes in the way we practice, perform, and learn," David Hult director of the Performing Arts Scholars Program, and Ian Mortimer, vice president for Enrollment Management, wrote in an email to 380 first-year students who received performing arts scholarships this year. "While performing arts offerings at RIT may look and feel differently from how they normally operate, we are committed to making sure they are available for you in a healthy and safe manner."
The 380 recipients more than triples the 128 students given scholarships last year, when the partial performing arts scholarships were first awarded at RIT. Hult said that number grew so much, in part, because "word of the program is quickly spreading. Our performing arts program has quickly captured the attention of students around the world who are looking at colleges."
Participating students are involved in classical or jazz instrumental music, voice, musical theater, acting, technical theater, dance, and video game composition. Students come from all of RIT's nine colleges and the scholarships are renewable for up to five years as long as the student is involved in performing arts.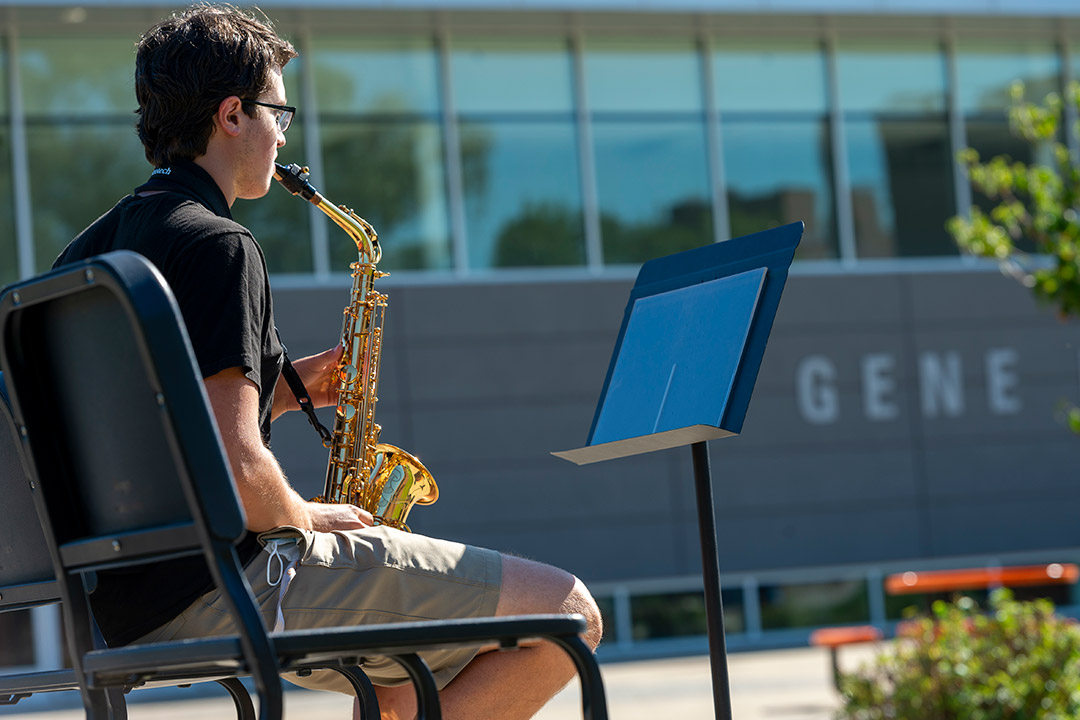 Elizabeth Lamark
One recipient, Daniel Zeznick, a first-year engineering exploration student from the Rochester suburb of Pittsford, said the scholarship was one reason he choose RIT.
"Of all the schools I applied to, none of them offered a performing arts scholarship," he said. "It definitely enticed me that I could experience performing arts on campus."
Zeznick plays alto saxophone in the RIT Jazz Ensemble, takes private lessons via Zoom and has attended an outdoor meeting of the RIT Jam Club.
Another scholarship recipient, Abby Wojehowski, a first-year biomedical engineering student from Marlboro, N.Y., is a member of RIT's Vis Viva Dance Company and performing team, which she says has given her the opportunity to branch out and meet people from outside her major.
"I have been dancing for 15 years and this scholarship allows me to do that with the addition of a coach to help guide me, and so many chances to further my dance education," Wojehowski said. "It allows me to continue doing something I love, while simultaneously helping me pursue my goals academically."
And Jordan Reeves, a new media interactive development major from Saline, Mich., is taking vocal lessons and plans to audition for a cappella groups.
"I didn't actually know about the scholarship before deciding on RIT, but when I found out about it, I was delighted," she said. "I did know RIT had a good music program and that is part of why I chose RIT."
Jonathan Kruger, chair of RIT's Department of Performing Arts, said RIT President David Munson and the administration proposed the idea for the scholarships to help find more engaged and creative students. Only 10 percent of RIT students were involved in performing arts, compared to up to 60 percent in other technological universities.
Hult calls the scholarship recipients "talented, bright, highly-motivated, self-starters, high-achievers, disciplined, and academically gifted. They are truly an impressive group of students and want to leave space in their lives for the performing arts." 
The number of performing art scholars is expected to increase next year. More venues are in the works for students to practice and perform, including a black box theater, rehearsal space, and stages in the Innovative Maker and Learning Complex, estimated to open in the fall of 2022.
Plans are in the design phase for a new performing arts center on campus, a two-theater complex with an 800-seat musical theater scheduled to be completed by Spring 2023, to be followed by a 1,500-seat orchestra hall for larger audiences.
Topics