User Experience Design and Development Advanced certificate

User Experience Design and Development
Advanced certificate
f813ff48-ea4c-4ede-8089-7a9b92fd4ee1 | 6218664
Overview
This program is no longer accepting new student applications.
The advanced certificate in user experience design and development provides working professionals with an opportunity to learn and develop user-centered visual design skills for current and/or emerging industry and career demands. Students learn the fundamentals of design creation, applied skills, and aesthetics for interface, user experience design, and basic interaction development. Students incorporate industry best practices and principles through the design and production of applied visual design projects.
The goal of the program is to assist professionals in developing design skills and aesthetic principles to achieve job mobility in the fields of visual digital design, user-experience design, interaction design, web and mobile design, marketing, advertising, and project planning, to name a few.
---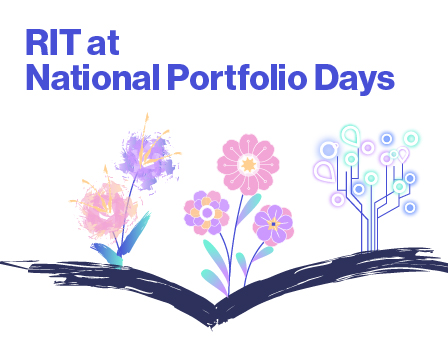 ---
National Portfolio Days
Meet with our faculty roster of renowned artists, designers, photographers and filmmakers at graduate National Portfolio Days this fall!
---
Curriculum
for User Experience Design and Development Adv. Cert.
User Experience Design and Development, advanced certificate, typical course sequence
Course
Sem. Cr. Hrs.
First Year
UXDE-711

User Interface Design

This course provides an introduction to human-centered interface design. Students research, explore and create design-based solutions for user interfaces. An introduction to visual design elements and principles such as form, color, typography, imagery, visual hierarchy, layout and information architecture. Emphasis is placed on integrating and applying design skills and processes to web standards and device guidelines. Projects are focused on designing navigational solutions for online web and touch-screen applications such as mobile phones and touch-pads. At the conclusion of the course students will be able to research, analyze and create user interface mock-ups based on appropriate visual design principles across multiple devices and platforms. Students will gain a core user interface design foundation to incorporate into their professional role during the planning and UI design phases of interactive projects. **Note: Course is restricted to RIT Online graduate students only** (Reserved for online students.) Lecture 7 (Fall).

3
UXDE-721

User Experience Design

This course introduces students to the design process for researching, identifying and implementing a user experience strategy for online web and app development. Students will learn to research, gather and evaluate source material to organize, write and design interaction solutions. The user experience workflow will cover: defining client and user goals, user identification, content organization, information architecture, wire-framing methods and basic UX validation through user testing across various platforms. At the conclusion of the course students will complete and document a UX project plan based on graphical user interface requirements and interactive conventions. Students will be able to incorporate the UX design process into their professional role during the research, planning and interaction design phases of user experience projects. and may have limited repeatability Lecture 7 (Spring).

3
UXDE-722

Interaction Design and Development

This course provides an introduction to interaction design and development including internet, web and mobile technologies. Topics covered include computer-based communication and information systems: basic HTML 5, CSS3, JavaScript and WYSIWYG editors for creating content and project workflows for delivery online and mobile content. The course will examine and integrate programmatic solutions and project planning processes for single and responsive design solutions. Best practices and technologies for hybrid, native and web solutions will also be identified and explored. At the conclusion of the course students will be able to programmatically implement web based user experiences which incorporates user interface mock-ups and basic interactive functionality. Students will gain the required technical knowledge to facilitate improved communication with developers and create stronger user experience design solutions during the planning and implementation of interactive projects. **Note: Course is restricted to RIT Online graduate students only** Lecture 7 (Spring).

3

Free Elective

3
Total Semester Credit Hours

12
Admission Requirements
To be considered for admission to the advanced certificate in user experience design and development, candidates must fulfill the following requirements:
Complete a graduate application. 
Hold a baccalaureate degree (or equivalent) from an accredited university or college. 
Submit official transcripts (in English) of all previously completed undergraduate and graduate course work.
Have a minimum cumulative GPA of 3.0 (or equivalent).
Submit a personal statement of educational objectives. 
Submit a current resume or curriculum vitae.
Submit two letters of recommendation from academic or professional sources.
International applicants whose native language is not English must submit scores from the TOEFL, IELTS, or PTE. A minimum TOEFL score of 79 (internet-based) is required. A minimum IELTS score of 6.5 is required. The English language test score requirement is waived for native speakers of English or for those submitting transcripts from degrees earned at American institutions.
Certain countries are subject to comprehensive embargoes under US Export Controls, which prohibit virtually ALL exports, imports, and other transactions without a license or other US Government authorization. Learners from Syria, Sudan, North Korea, the Crimea region of the Ukraine, Iran, and Cuba may not register for RIT online courses. Nor may individuals on the United States Treasury Department's list of Specially Designated Nationals or the United States Commerce Department's table of Deny Orders. By registering for RIT online courses, you represent and warrant that you are not located in, under the control of, or a national or resident of any such country or on any such list.
Learn about admissions, cost, and financial aid