Archival demonstration project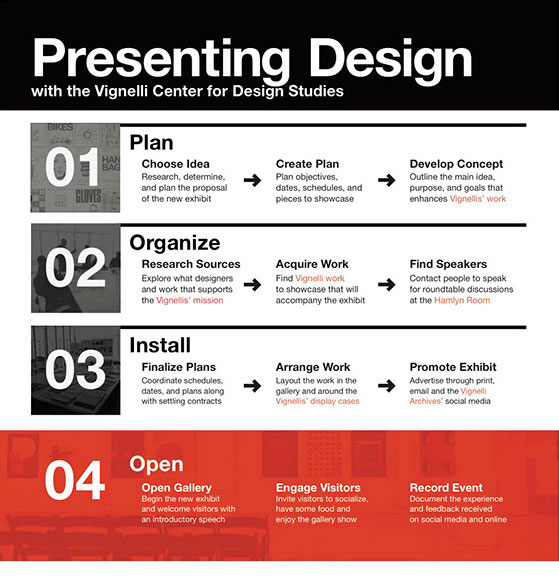 Associate professor Deborah Beardslee and her Information Design students collaborated with Vignelli Center archivist Jennifer Whitlock to research and devise diagrams pertinent to the work, goals and activities in the center's Design Archives.
These diagrams were intended to visually communicate important phases, steps, stages, relationships, interrelationships and/or connections in order to increase understanding and awareness of the archives for various kinds of visitors.
Students were given three different content choices as upfront inspiration. Once a content choice was selected, students further defined a specific, appropriate diagram focus. The project required each student to define and propose a particular focus for their message-making, and included multiple iterations and presentation meetings with Whitlock and staff assistant Katie Nix serving as their clients. 
Final deliverables at the end of the project included two refined diagram variations per student, along with an adapted handheld "flashcard" format and a sequenced, time-based solution based on one of the two final submitted diagrams.
The three broader content choices were:
What is the Vignelli Center Design Archives about? What happens there? Who comes to visit? Why?
What does an archivist do? What are "best practices" regarding archival materials in general? Which best practices are particular to the work being done in the Vignelli Center Design Archives?
How does the Vignelli Center Design Archives compare with other kinds of archives, museums and collections at RIT and elsewhere?