PhD Students
Current Students
Alyssa Recinella
Alyssa Recinella is a PhD student in the engineering program. She started in the lab in January 2013 as a co-op. She worked mainly with the design and manufacturing of chips and test loops. In the fall of 2014 she joined the BS/MS program. She spent the next 8 months (Jan 2015 - Aug 2015) at IBM as a thermal engineering intern. She finished her BS/MS in mechanical engineering in December 2016.
Email Alyssa
Aranya Chauhan
Aranya received his Bachelor of Technology in Mechanical Engineering from Vellore Institute of Technology, Chennai in 2015. He joined RIT in fall 2015 and started working in thermal analysis lab in spring 2016. His research work focuses on using a thermosiphon loop for CPU cooling in RITs data center.
Email Aranya
Isaac Perez
Isaac Perez received the B.Eng. degree in Mechanical Engineering from University of Guanjuato (UG), Mexico, and M.Eng. degree in Mechanical Engineering (thermofluids specialization) from the UG. Beyond his studies, he also collaborated at (University of Texas at Dallas) and Institute for Critical Technology and Applied Science (Virginia Tech), covering various research topics in fluid mechanics and electrochemistry. He is now pursuing his PhD at RIT, his current research focuses on the numerical analysis of nucleate boiling.
Email Isaac
Jose Luis Gonzalez Hernandez
Jose Luis Gonzalez Hernandez obtained his Bachelor and Master degrees in mechanical engineering from "Universidad de Guanajuato" in Mexico. Currently, he is pursuing a doctoral degree at RIT. His investigation lines have been cooling of electronic devices through heat sinks, second law analyses of complex systems, and temperature prediction of human tissues.
Email Jose Luis
Travis Emery
Travis Emery received his Bachelor of Science and Master of Engineering degrees in Mechanical Engineering from RIT in 2016. He joined the TAMFL lab in fall of 2015 as an undergraduate student. He is currently pursuing his PhD in Microsystems Engineering. His work focuses on enhanced pool boiling using refrigerants, as well as potential applications for such systems.
Email Travis
Past Students
Ankit Kalani
Ankit Kalani is a PhD student who joined the lab in 2010 after completing his Bachelors from Mumbai University, India. He first obtained his masters degree in mechanical engineering on pool boiling in RIT. He pursued his PhD degree on flow boiling and graduated in spring 2016.
Arvind Jaikumar
Arvind Jaikumar obtained his bachelors degree in Mechanical engineering from Visvesvaraya Technological University, India in 2013. He joined TAMFL as a masters student in January 2014 with an interest in heat transfer. He pursued research in heat transfer enhancement by creating microporous coatings on microchannels for pool and flow boiling. He completed his PhD in December 2017.
Goker Turkakar
Goker Turkakar received BS degree from Mechanical Eng. Dept, Osmangazi University, 2006 Eskisehir Turkey. He obtained his MS on 2010 from Mechanical Eng, Middle East Technical University (METU), Ankara, Turkey. He started to pursue a PHD in Mech Eng, METU since 2010. He joined TAMFL on March 2015 as a visiting scholar. He focused on designing a microscale refrigeration cycle for electronics cooling in his PHD study.
Mustafa Koz
Mustafa Koz joined Microsystems Engineering PhD program in the fall of 2010. He uses numerical methods (COMSOL Multiphysics) to better demonstrate the heat transfer in PEM fuel cells. He received his BS and MS degrees on Mechatronics from Sabanci University, Istanbul/Turkey in 2007 and 2009 respectively. His MS thesis subject was the numerical analysis of micro swimming robots. He used numerical methods also on the performance analysis on micro pin-fin heat sinks.
Preethi Gopalan
Preethi Gopalan joined the lab in September 2010 as a Microsystems Ph.D. student. She has completed her M.S. degree Electrical Engineering from SUNY Buffalo. She is currently working on water management issues of the PEM Fuel Cell.
Pruthvik Raghupathi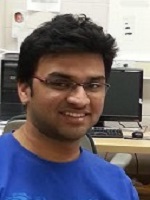 Pruthvik Raghupathi finished his BS in mechanical engineering from PESIT, Bangalore and joined TAMFL in the fall of 2013. He worked on investigating bubble dynamics during boiling. He completed his PhD in December 2017.
Rupak Banerjee
Rupak Banerjee joined the lab in 2009 after having completed his Bachelor's degree from Panjab University (India) in 2009. His Masters degree was completed under the guidance of Dr. Kandlikar at the Thermal Analysis, Microfluidics, and Fuel Cell Laboratory in 2011. He is currently pursuing his doctoral work in the lab. His work involves the study of water transport through the gas diffusion layer of a PEM Fuel Cell.