The C-Print® System

C-Print® is a speech-to-text (captioning) technology and service developed at the National Technical Institute for the Deaf, a college of Rochester Institute of Technology. The system successfully is being used to provide communication access to individuals who are deaf or hard of hearing in many programs around the country. In addition to educational environments, C-Print also can be used in business and community settings, and with individuals with other disabilities, such as those with a visual impairment or a learning disability.
News
Download the C-Print® Mobile client app from the Apple iTunes or Google Play store for free (courtesy of RIT/NTID)!
The latest release of C-Print® Pro, version 3.1, is now available.
C-Print® Lite is a client application that runs on Windows® and Mac (OS X) computers.
Brochure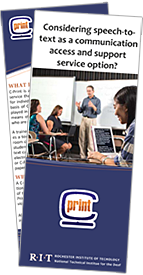 Considering speech‐to‐text as a communication access and support service option?