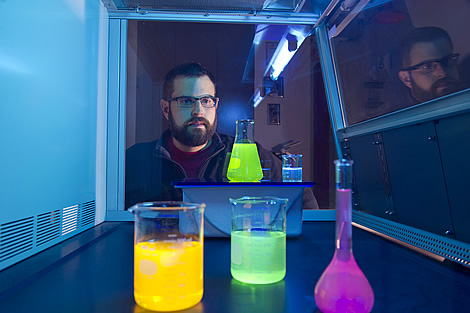 Bio: Dr. Todd Pagano, Professor of Chemistry, is the Associate Dean for Teaching & Scholarship Excellence at RIT/NTID and was the founding Director of NTID's Laboratory Science Technology program. He is also an extended faculty member in RIT's Golisano Institute of Sustainability and the College of Science's Environmental Science program.
Dr. Pagano has been honored as a recipient of several awards, including: RIT's Richard & Virginia Eisenhart Award for Excellence in Teaching, Dawan L. Albritton Faculty Humanitarian Award, RIT's Faculty Mentoring Award, American Chemical Society's (ACS) Stanley Israel Award for Advancing Diversity in the Chemical Sciences, Rochester Section ACS Volunteerism Award, Dreyfus Foundation/ACS National Award: Encouraging Disadvantaged Students into the Chemical Sciences, Society for College Science Teachers' Outstanding Undergraduate Science Teacher Award, and other local and national awards. He has been named a Fellow of both the ACS the Royal Society of Chemistry (U.K.). He was listed on the Rochester Business Journal's "Forty Under 40" list and was also recognized as United States Professor of the Year by the Council for Advancement and Support of Education (CASE) and the Carnegie Foundation for the Advancement of Teaching.
Dr. Pagano has worked on several analytical/physical chemistry and pedagogical research projects and has authored over 200 papers at local, national, and international symposia. He conducts research in fluorescence spectroscopy, climate change's impact on access to safe drinking water, fruit/grape/wine biochemistry, natural products, and analytical chemistry in archaeology. He has been a visiting scholar for the Excellence in Analytical Chemistry program in Sweden and as a Fulbright specialist in Estonia. He also leads initiatives in pedagogical approaches to teaching science, writing within the disciplines, and promoting diversity in STEM fields. In his current associate dean role, he leads undergraduate research programming, oversees faculty professional development efforts, supports student success/retention initiatives, and provides general academic affairs leadership.

Dr. Pagano has been a technical advisor to the National Research Council/National Academy of Science, serves on the ACS's International Activities Committee, and is Editor of the Journal of Science Education for Students with Disabilities.
Education
B.A. - Chemistry; State University of New York, Oswego
M.S. - Chemistry; Tufts University
Ph.D. - Chemistry; Tufts University