Past Exhibition
Clarissa Uprooted: The Exhibit
June 03, 2022–July 24, 2022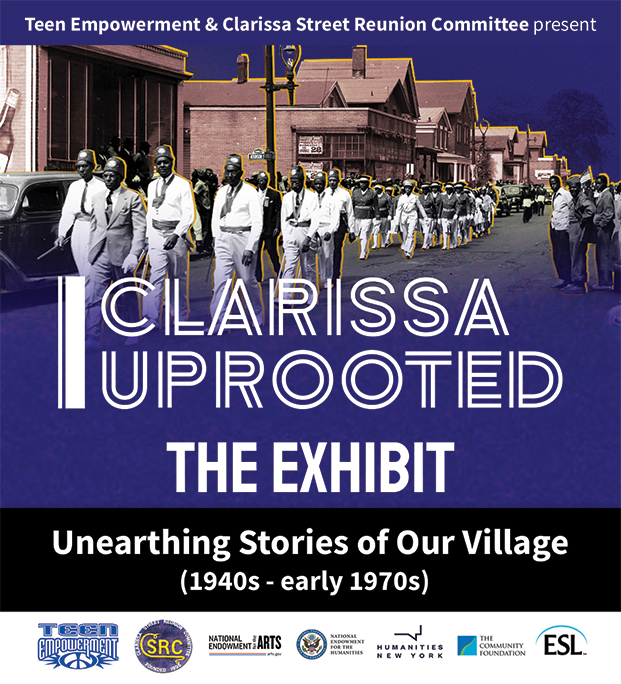 Clarissa Uprooted: Unearthing Stories of Our Village (1940s-early 1970s)
clarrisauprooted.org
An exhibition focused on the historic Clarissa Street in Rochester, NY, a prominent African American neighborhood, where internationally renowned Jazz artists played, families sought their American Dream, and people looked out for one another. 
The Clarissa Street Neighborhood (now known as Corn Hill) is rich with history. It was a thriving cultural center in downtown Rochester, NY, where the original RIT campus sat nearby. It was especially known for the Pythodd Jazz Club - where legendary artists once performed.

A partial reconstruction of the stage from the legendary Pythodd Jazz Club, along with video testimonials, interactive displays and more are all part of a unique and memorable experience of this historic neighborhood, addressing why it disappeared, and what we can do to preserve and help its spirit live on.
A Community Collaboration:
This exhibition is organized by Rochester Teen Empowerment along with faculty, staff and students from the RIT College of Art and Design and College of Liberal Arts, with support from elders of the original Clarissa Street Neighborhood, the Clarissa Street Reunion Committee, the National Endowment for the Arts, the National Endowment for the Humanities, Humanities New York, The Community Foundation, ESL, and the Art Bridges Foundation. Read the story by RIT University Communications here. 
SPECIAL EVENTS (all free and open to the public):
Friday, June 3, 6-9 PM @ CITY ART SPACE
First Friday Public Opening
Thursday, June 9, 11 AM - 1 PM @ PARCEL 5
The Eternal Village: Teen Empowerment's Annual Community Luncheon
(Raindate Friday June 10)
Thursday, June 16, 6-8 PM @ CITY ART SPACE
Jazzfest Eve Talk & Viewing: Remembering Rochester's own legendary Pythodd jazz room
Wednesday, June 22, 2-5 PM @ LIBERTY POLE PLAZA
Intergenerational Pythodd Tribute