Dr. Cristian A. Linte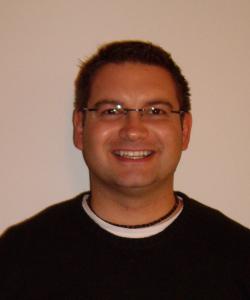 Cristian A. Linte
Education and Training
2004: BASc - Mechanical and Materials Engineering, University of Windsor, Canada
2006: MESc - Biomedical Engineering, University of Western Ontario, Canada
2010: PhD - Biomedical Engineering, University of Western Ontario, Canada
2011-2013: Post-doctoral Fellow - Biomedical Imaging Resource, Mayo Clinic, Rochester MN USA  - funded by Natural Sciences and Engineering Research Council & Heart & Stroke Foundation of Canada
Why I chose the academic research path?
I have not been exposed to research until the end of my second year of undergraduate studies in engineering – at that time I worked on a biochemistry & environmental engineering project, quite different from my graduate training and current research interests. I was exposed to a couple of other research field in the meantime before I "settled" in the image guidance niche, but the driving forces are the same, no matter what field you're in: how can we address some of the open-ended research questions and come up with novel, feasible solutions?
I really enjoy working with trainees and collaborators from different disciplines – the medical imaging and visualization field is at the cross-roads of several fields, including engineering, Physics, computer science, image perception, information delivery, technology assessment, and, of course medicine. It is very refreshing and inspiring at the same time to be surrounded by so many creative colleagues from all those disciplines, especially our students – they are sharp, enthusiastic and up to date with all the e-technology – all together an irreplaceable multi-disciplinary team.
These research directions have the potential to lead to new generations of technology that will revolutionize the treatment via interventional procedures eliminate currently unavoidable complications. We are conducting our research will be conducted in close collaboration with our clinical colleagues to ensure a smooth integration into the clinical workflow. These tools will enable to us minimally invasively combat the most deadly condition in the Western world – heart disease, provide visualization support to access one of the most challenging, surgically-reachable locations in the body – the beating heart, and increase the impact of some of the most underutilized curative treatments - image-guided interventions, enabling entirely new treatments for diseases that today are untreatable and, in many cases, terminal.
In the field of minimally invasive diagnosis and therapy, the holy grail is developing support technology that is widely accessible to the society at large, integrates seamlessly into the current clinical workflow. Unfortunately most new technology is not designed with the average patient or average clinical facility in mind, but rather caters to the best equipped research and clinical centres in the world – not exactly "affordable healthcare", is there now? J
Medical imaging has already reshaped traditional medical practice, enabling clinicians to "see" inside the human body without "cutting and slicing". I think one of the most exciting application is the use of imaging and imaging biomarkers for drug therapy delivery and assessment – both at the macroscopic (i.e., system, organ and tissue level), but also microscopic (i.e., effect of therapy on the cellular biochemistry and gene expression level). Imagine being able to cure some of the currently untreatable conditions, and in some cases deadly … 
Research Summary & Interests
Dr. Linte's research interests have focused on exploring the use of medical imaging to generate new paradigms for image-guided visualization and navigation for minimally invasive therapy. Cardiac interventions have been among the last disciplines to benefit from minimally invasive treatment techniques, mainly due to the challenges associated with access and visualization inside the beating heart. As such, Dr. Linte's research endeavours have employed both technologies (image acquisition, surgical tracking, visualization and display) and techniques (image analysis, modeling, evaluation and validation) toward the development, evaluation and pre-clinical integration of image guidance environments for surgical navigation of minimally invasive cardiac interventions.
Awards
2013                Canadian Institutes of Health Research Young Investigators Forum
2012                IEEE Members & Geographic Activities GOLD Achievement Award
2010                International Society of Computer Assisted Surgery – CARS 2010 Fellowship
2010                Best BME Poster Award, Margaret Moffat Research Day, University of Western Ontario
2009                Outstanding Teaching Assistant Award Dept. of Mechanical Engineering, Univ. Western Ontario
2009                MICCAI 2009 Edcuation Scholarship, Imperial College London
2008                Have a Heart Bursary, Canadian Cardiovascular Society Academy ($2,000)
2008                Runner-up Presentation, Computer Assisted Radiology and Surgery Symposium
2007                Michael B. Merickel Student Paper Award (2nd place), SPIE Medical Imaging 
2007                First Prize Poster Competition, Imaging Network Ontario Symposium
Selected Publications
Linte CA and Yaniv Z. When change happens: Computer assistance and image guidance for minimally invasive therapy. Healthcare Technology Letters. Vol. 1 (1); pp. 2-5. 2014. 
Linte CA, Camp JJ, Augustine K, Holmes III DR and Robb RA. Virtual platform for spine surgery planning: Initial assessment and clinical experience. Journal of Computer Methods Biomech Biomed Engin: Imaging & Visualization. (In Press – Feb. 2014). 
Linte CA, Camp JJ, Holmes III DR and Robb RA. Online modeling for lesion visualization and monitoring for cardiac ablation therapy. Med Image Comput Computer Assist Interv. Mori K. et al. (Eds.), Lect Notes Comput Sci. Vol. 8149. Pp. 9-17. 2013. 
Linte CA, Davenport KP, Cleary K, Peters C, Vosburgh KG, Navab N, Edwards, PJ, Jannin P, Peters TM, Holmes III DR and Robb RA. On mixed reality environments for minimally invasive therapy guidance: Systems architecture, successes and challenges in their implementation from laboratory to clinic. Comput Med Imaging Graph. Vol. 37(2). Pp. 83-97. 2013. 
Linte CA, Lang P, Rettmann ME, Cho DS, Holmes III DR, Peters TM and Robb RA. Accuracy considerations in image-guided cardiac interventions: Experience and lessons learned. Journal of Computer Assisted Radiology and Surgery. Vol. 7. Pp. 13-25. 2012. 
Linte CA, Cho DS, Wedlake C, Moore J, Chen E, Bainbridge D, Patel RV, Peters TM and Kiaii B. Investigating peri-operative heart migration during robot-assisted coronary artery bypass grafting interventions. Innovations: Technology and Techniques in Cardiothoracic and Vascular Surgery. Vol. 6. Pp. 323-330. 2011. 
Linte CA, Moore J, Wedlake C and Peters TM. Evaluation of model-enhanced ultrasound-assisted surgical guidance in a cardiac phantom. IEEE Trans Biomed Eng. Vol. 57. Pp. 2209-18. 2010. 
Linte CA, Moore, J, Wedlake C, Bainbridge D, Guiraudon GM, Jones DL and Peters TM. Inside the beating heart: An in vivo feasibility study on fusing pre- and intra-operative imaging for minimally invasive therapy. Journal of Computer Assisted Radiology and Surgery. Vol. 4(2). Pp. 113-23. 2009. 
Linte CA, Moore J, Wiles, AD, Wedlake, C. and Peters TM. Virtual reality-enhanced ultrasound guidance: A novel technique for intracardiac interventions. Comput Aided Surg. Vol. 13(2). Pp. 82-94. 2008. 
Linte CA, Wierzbicki M, Peters TM and Samani A. Towards a biomechanics-based technique for assessing myocardial contractility: An inverse problem approach. Journal of Comput Methods in Biomech Biomed Engin. Vol. 11(3). Pp. 243-55. 2008. 
**Linte CA, Wierzbicki M, Moore J, Guiraudon GM, Little SH and Peters TM. Towards subject-specific models of the dynamic heart for image-guided mitral valve surgery. Medical Image Computing and Computer-Assisted Interventions. Ayache N. et al. (Eds). Lect Notes Comput Sci. Vol. 4792. Pp. 94-101. 2007.