Comic Melissa Villaseñor and internet icon Hank Green scheduled for RIT's Brick City Homecoming and Family Weekend
Men's hockey vs. Notre Dame, women's hockey vs. Union, and 5K run also planned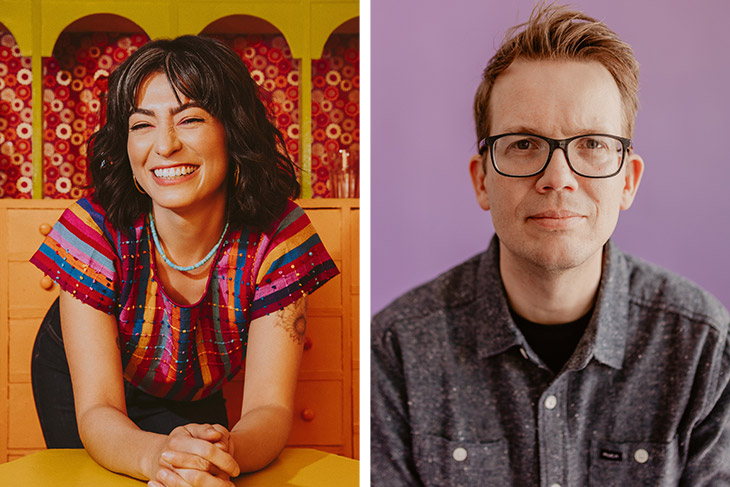 Former Saturday Night Live cast member Melissa Villaseñor and Hank Green, an internet icon, are scheduled to appear at Rochester Institute of Technology's Brick City Homecoming and Family Weekend in October.
Villaseñor, a stand-up comedian, actress, and impressionist, got her start as a semi-finalist on America's Got Talent and broke barriers by becoming the first-ever Latina cast member of Saturday Night Live. She has headlined in comedy clubs and theaters for the past 10 years and is scheduled perform at RIT at 9:30 p.m. Friday, Oct. 13.
Green, who with his brother, John, began making YouTube videos about science in 2007, now has a social media following of more than 20 million. In 2012, the brothers launched SciShow and Crash Course and created their educational media company, Complexly, which produces content that is used in nearly every high school in America and has produced videos that have been viewed more than 2 billion times. He is this year's Brick City Weekend & Student Government speaker and is scheduled to talk at 2 p.m. on Saturday, Oct. 14.
Both Villaseñor and Green's presentations will be held in RIT's Gordon Field House and Activities Center, and both are open to the public.
Ticket information and registration is expected in August on RIT's Brick City Homecoming and Family Weekend website.
Many events, including several for RIT's individual colleges, are scheduled during the weekend for the more than 140,000 RIT alumni and their families, as well as current RIT students, faculty, staff, and retirees. Among the largest events this year are:
Thursday, Oct. 12: A ribbon cutting and tours of the Student Hall for Exploration and Development (SHED), the largest single project to be erected since RIT moved to its Henrietta campus more than 50 years ago.
Friday, Oct. 13: Women's hockey vs. Union is scheduled for 2 p.m. in the Gene Polisseni Center, and two evening shows of the popular Dueling Pianos will be offered.
Saturday, Oct. 14: Men's hockey will host Notre Dame in the Blue Cross Arena in downtown Rochester at 7:05 p.m. Shuttles will start from campus at 5 p.m.
Sunday, Oct. 15: The Brick City Weekend 5K is planned for 10 a.m.
Go to the Brick City Homecoming and Family Weekend website for more activities, registration, and ticketing information, expected in August.
Topics