Hospitality alumnus barbecues a delicious business and community success story
Brooks' House of Bar-B-Q Restaurant and Bottling thrive during pandemic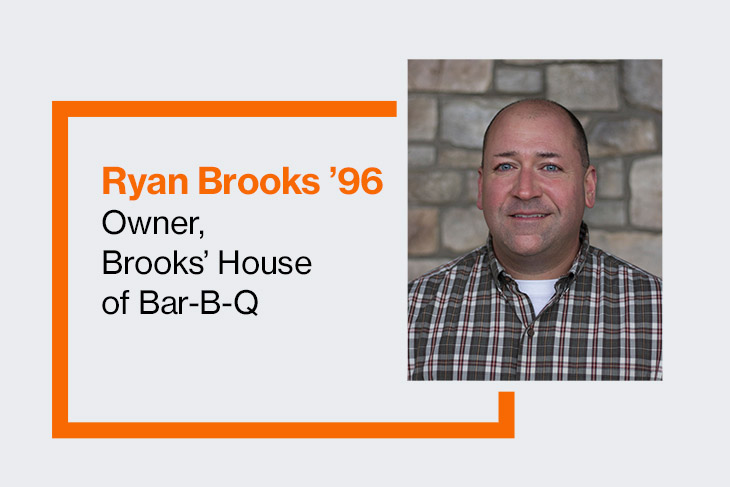 A community that barbecues together stays together, and Ryan Brooks' extended community of family, employees, and customers associated with the Brooks' House of Bar-B-Q thrived together.
During the pandemic, his sweet and tangy barbecue chicken was part of many frontline workers' appreciation days at hospitals and other health facilities—catered often at cost or free. He retained all of his employees, increased delivery and catering, and the company's private label, Brooks' Bottling service, grew 110 percent from 2019-2020. Plans are underway to secure land adjacent to the family property in Oneonta, N.Y., for a larger bottling plant.
Brooks '96 (food management) is the third-generation owner of the business that began as a poultry farm, providing fresh eggs and packaged meats to nearby stores. His grandparents dreamed of opening a restaurant, and in 1961, they adapted their catering business into what would become a recognized family-owned business—Brooks' House of Bar-B-Q.
"Chicken farming became very tough in upstate New York, and with that, my grandparents adapted and pivoted from chicken farming and started barbecuing the chicken in 1951," said Brooks. "This move to get more funds for the family business and family ended up being the main source of income. From there the chicken farm was in the past and we evolved to the catering that built the foundation for the restaurant."
Employees as "family" was a philosophy he learned from his parents, John and Joan, and grandparents, Griffin and Frances. Ryan and his wife, Beth, have led the way since 2005 and managed the pandemic with committed employees. They have become a difference maker in the community and in the local restaurant business, having kept the ovens cooking and employees on the payroll when some businesses had to close their doors. 
"I had to make sure I was making the right decisions, not just for the crew, but the customers, to keep them safe. You adapt, you make lemonade—and there were a lot of lemons," he said.
"Oneonta and the surrounding areas have been great. When you are cooking 6,500 dinners with the crew, you are in the trenches with them. You make it your lifestyle, and that's how we were able to pull everyone through COVID."
For the first time in its 70-year history, Brooks' House of Bar-B-Q began selling its own branded beer and added wine and hard cider to the menu.
In the next year, the Brooks' BBQ label, "Oneonta 51" will be expanding into other markets. "Currently we are in Wegmans, Price Chopper, Tops, and a few other grocery store chains. In addition to my own brand, we will be expanding on more national accounts that are featured in stores such Walmart, Whole Foods, and Lowe's." 
Brooks' Bottling is a member of the Association For Dressings and Sauces (ADS), and Brooks currently sits on its board of directors, serving as finance chair and treasurer. In 2022, he will become board chair sitting next to the sharpest minds in the industry, he said. 
National exposure has also come by way of winning the prestigious James Beard Award in 2016.
"I feel like the Beard Award was a generational win, for all three generations," he said.
At the ceremony to accept the award, he brought his father on stage to share the applause. "I took the medallion off and put it on him."
Topics