ROAR for RIT on Sept. 28-29
Extended annual day of giving invites community to support their favorite areas of RIT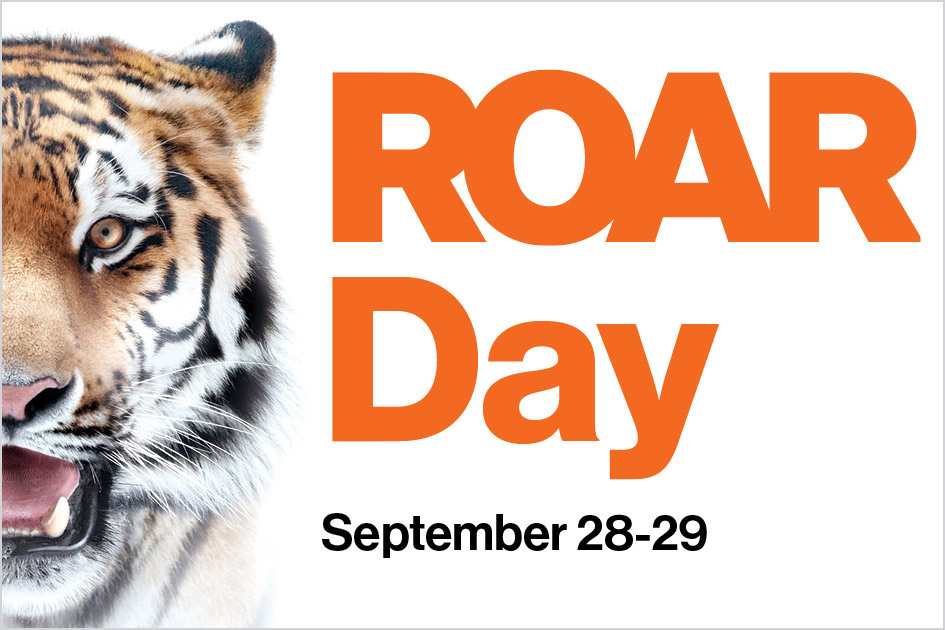 Noon on Sept. 28 marks the kickoff of this year's 18th annual ROAR Day, which provides a great opportunity for all members of the RIT community to support their favorite parts of the university. Gifts made during ROAR Day fund the future of RIT across every college as well as athletics, diversity and inclusion, performing arts, scholarships, and more. This year's goal is to reach 2,023 gifts by midnight on Sept. 29.
"ROAR Day is a celebration of philanthropy and giving back to RIT," said Marisa Psaila, executive director of Annual Giving. "Without donor support, the full RIT experience wouldn't be possible."
Everyone in the RIT community is invited to participate, including alumni, parents, faculty, staff, students, and friends—and even small gifts can make a big difference. Donors can choose which area of the university to support, or give to the RIT Fund, which enables the university to direct gifts to the areas of RIT where they are most needed.
Gift-matching challenges help increase ROAR Day's impact. This year includes several challenges, including the Alumni Association Board of Directors Challenge, Saunders College of Business Challenge, Men's Baseball Double-header Matching Gift Challenge, Let's Score Women's Soccer Challenge, RIT Swimming and Diving Matching Gift Challenge, and the Catholic Newman Community Matching Gift Challenge.
Students on campus are encouraged to join the ROAR Day Student Celebration, from 3 to 6 p.m. on Thursday, Sept. 28, at Fountain Park in Global Village. There will be food, giveaways, and more ways for students to help direct gifts to the areas of campus that matter most to them.
To become a ROAR Day ambassador or to make a gift, go to the ROAR Day website.
"It doesn't matter how much people give; it's participation that's important," said Psaila. "Higher participation from alumni, parents, faculty, and staff not only strengthens RIT, but it sends an inspirational message to others about the power we have when we unite to ROAR for our students. All of us benefit."
Topics