Entertainment, tours, wine tasting, hockey, and more offered at RIT's Brick City homecoming
Men's hockey vs. Notre Dame, women's hockey vs. Union and 5-K run also planned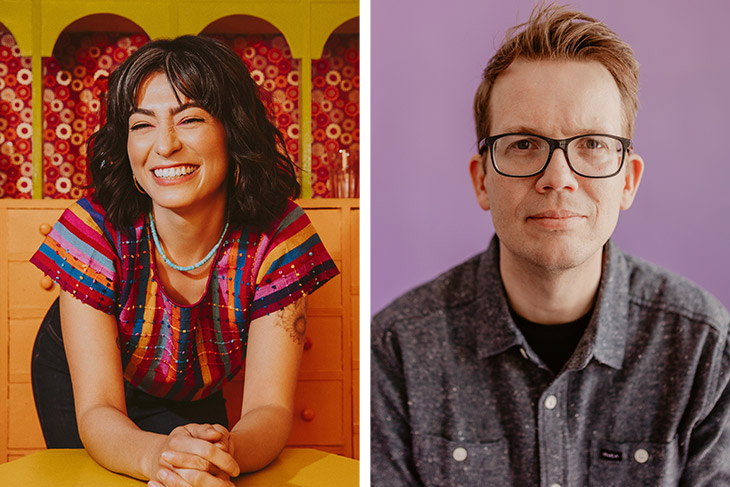 From hockey games and performing arts presentations to receptions and reunions, Rochester Institute of Technology's Brick City Homecoming and Family Weekend has more than 100 events planned from Oct. 13 to 15.
Two major events include appearances by former Saturday Night Live cast member Melissa Villaseñor and internet icon Hank Green.
Villaseñor, a stand-up comedian, actress, and impressionist, got her start as a semi-finalist on America's Got Talent and broke barriers by becoming the first-ever Latina cast member of Saturday Night Live. She has headlined in comedy clubs and theaters for the past 10 years and is scheduled to perform at 9:30 p.m. Friday, Oct. 13.
Green, who with his brother, John, began making YouTube videos about science in 2007, now has a social media following of more than 20 million. In 2012, the brothers launched SciShow and Crash Course and created their educational media company Complexly, which produces content that is used in nearly every high school in America and has produced videos that have been viewed more than 2 billion times. He is this year's Brick City Weekend and Student Government speaker and is scheduled to talk at 2 p.m. on Saturday, Oct. 14.
Both Villaseñor and Green's presentations will be held in RIT's Gordon Field House and Activities Center, and both are open to the public. Ticket information and registration for all events can be found on the Brick City homecoming website.
Many events are also scheduled at RIT's individual colleges and are scheduled during the weekend for the more than 140,000 RIT alumni and their families, as well as current RIT students, faculty, staff, and retirees.
Among the largest events this year are:
Other homecoming highlights include several guided tours of the Student Hall for Exploration and Development (SHED), the largest single project to be erected since RIT moved to its Henrietta campus more than 50 years ago. Tour are being offered throughout the weekend, but if they are full, visitors are free to explore the new complex on their own. Performing arts students will provide entertainment.
RIT's National Technical Institute for the Deaf is celebrating its 55th anniversary reunion; hundreds of NTID alumni are expected to attend.
There will be several performing arts presentations, by all seven of RIT's a cappella groups, the RIT Philharmonic Orchestra and Concert Band, RIT Percussion Showcase, West African Percussion Ensemble, Tiger Steel steel drum band, RIT Jazz Ensemble, Red Brick String Quartet, RIT Singers, skits and improv by Fowl Play, a joint presentation by the RIT Dance Program and Rochester City Ballet, and an interactive workshop offered by the Latin Rhythm Dance Club.
And Leigh Rubin, creator of the syndicated comic strip "Rubes," will speak about his work and sign posters.
Some events, including two Dueling Pianos shows and tours of historic Mt. Hope Cemetery, are already full, but you may check to see if there are last-minute openings.
Visit the Brick City weekend website for more activities, registration, and ticketing information.
Topics