Overview
The Learning Assistant (LA) Program enables student LAs to support the goals of their faculty mentors through peer-to-peer small group facilitation in the classroom. LAs have skills and training in pedagogy that allow them to reflect on classroom learning, make meaning from that reflection, and provide insight and ideas to work collaboratively with faculty to improve outcomes. In this way the program is uniquely different from traditional classroom support.
Talented students are recruited, preparing them for teaching careers. The transformation of courses involves creating environments in which students can interact with one another, engage in collaborative problem solving, and articulate and defend their ideas. The program provides a resource to help faculty implement and sustain pedagogical change in their classrooms. Please Note: Learning Assistants provide support to classes in all learning modalities including in person and synchronous/asynchronous virtual classrooms.
The Learning Assistant (LA) program is based on the model developed at the University of Colorado - Boulder.
To be a part of the Learning Assistant program, all faculty and students must submit an application. These applications, along with interviews, are used to make optimal matches between student LAs and faculty mentors. Pairings are based on pedagogical needs/plans, personality match, experience, and alignment of goals between the LA and mentor. Decisions and placements are made within the two weeks preceding the start of the semester.
Fall Recruitment for the Learning Assistant Program has Begun!
Friday, March 26 , 2021
Applications Open

Friday, April 2, 10-11:30 am EDT
Virtual Recruitment Fair recorded session can be viewed  Here

Applications remain open through June 1, 2021

Placements for Fall 2021 will happen during Summer 2021
LA Pedagogy Brown Bag Series
A series of three brown bag lunch discussions on pedagogy will be held by Zoom. For more information contact Emily Mehlman, Program Coordinator at ekmsps@rit.edu
February 18, 2021
12-1pm
Classroom Culture

March 17, 2021
12-1 pm
Student Motivation
April 15, 2021
10-11am
Formative Classroom Assessment
Learning Assistant NEWS
March 2, 2021—Congratulations to our LAs Receiving the Outstanding Undergraduate Scholar Awards
Anna Nuenschwander
Nana Aikins
Ashley Martsen
Celia Mercovich
Emalee Wrightstone
 
Congrats also to our LA alumni also receiving this award!
Ashley Tucker
Nadia Gunderson
February, 2021—Daniel Maffia Joins LA Program Committee
Daniel Maffia, senior lecturer in the Department of ASL and Interpreting Education, NTID, has joined the LA Program Committee. Welcome Daniel!
January, 2021—WELCOME to the Spring Cohort of Learning Assistants!
​We are thrilled to have 40 learning assistants in the spring program. Watch for more news as the semester gets underway.
July, 2020—Dr. Andrew Ferrante Joins LA Program Committee
Dr. Andrew Ferrante, a visiting lecturer in the School of Physics and Astronomy, has joined the LA Program Committee. We welcome him and look forward to working together to continue to develop this program to the fullest  —transforming classroom learning sustaining pedagogical change.

A heartfelt thank you to Dr, Moumita Das for her service on the committee, as she continues to support the LA Program while moving on to help RIT STEM students in other ways.
May, 2020—Congratulations to Our 2020 Learning Assistants
The 2020 Learning Assistant Recognition of Excellence Award
goes to Eva Earnest.
Honorable Mentions:
Kyle Buohl
Morgan Mistysyn
Aleea Wrightstone
We present these with gratitute for outstanding dedication and service as a Learning Assistant.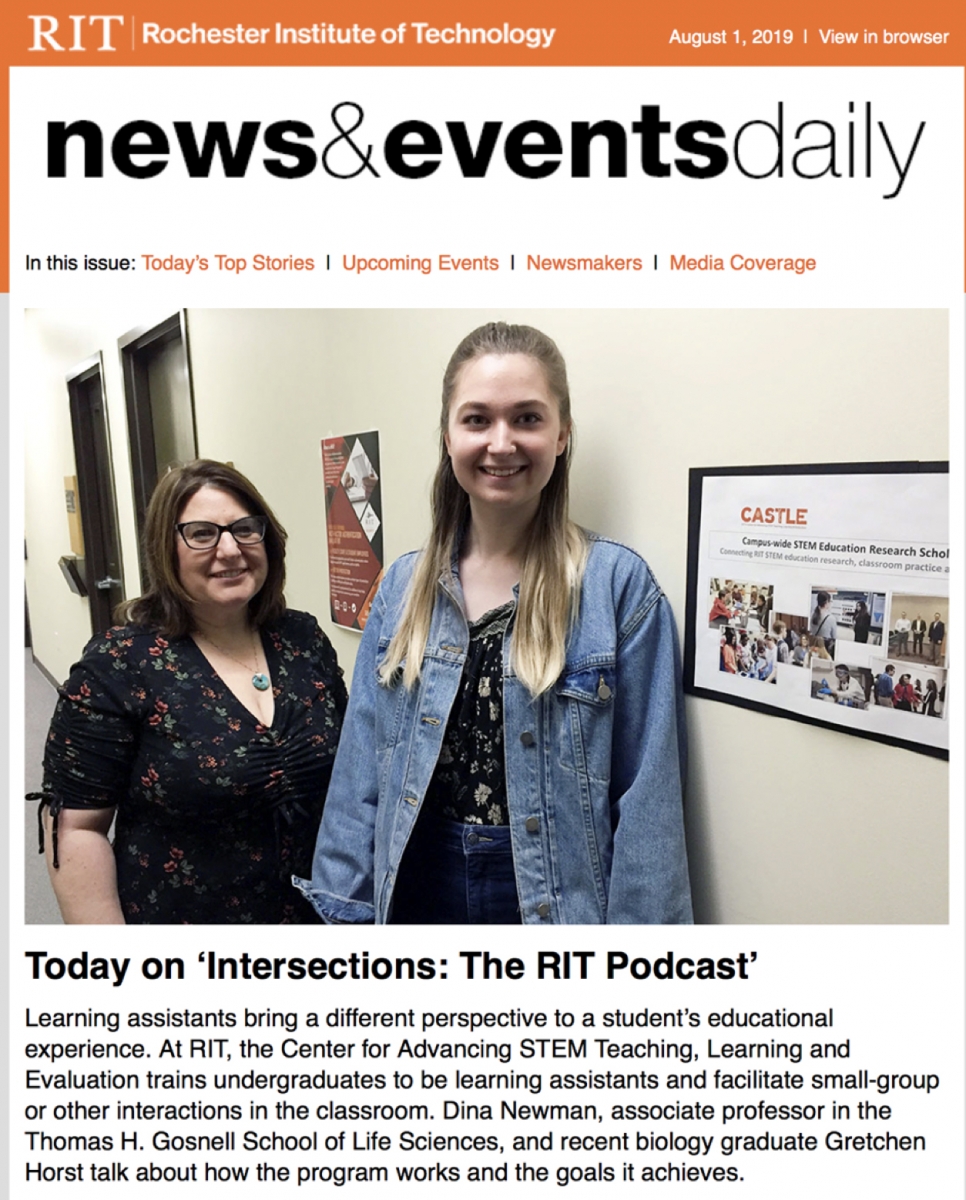 August, 2019—LA Program on RIT Intersections
LISTEN to the podcast with Dr. Dina Newman, faculty LA mentor and recent graduate and Learning Assistant, Gretchen Horst.
A sample of courses that have been supported by the LA Program is listed below. The list continues to grow.
Life Sciences

Physics & Astronomy

Applications of GIS

College Physics I & II

Cellular & Molecular Biology

University Astronomy

Concepts of Environmental Science

University Physics I & II

Environmental Science Field Skills

   

Experiments in Modern Physics

General Biology I & II

College of Applied Science & Technology

General Organic Biochemistry I

DC Circuits

Genetics

Electronics Measurements

Introduction to Biology I & II

Engineering Communication & Tolerancing

Introduction to Bioinformatics

Fundamentals of Engineering

Introduction to Microbiology

Mechanical Dynamics

Soil Science

Principles of Statics

 
 

Mathematics

    

Other

Boundary Value Problems

Sign Mime

College Algebra

University Writing

Complex Variables

Metacognitive Approaches to Scientific Inquiry

Mathematical Modeling

    
  Introduction to Performing Arts 

Multivariable Calculus & Differential Equations

NTID

Precalculus

American Sign Language

 

Interpreting I & II

Chemistry & Material Sciences

 

General and Analytical Chemistry I & II
RIT Learning Assistant Program Faculty Committee Members:
Emily Mehlman (CASTLE Program Coordinator)
Scott Franklin (School of Physics and Astronomy)
Dawn Carter (Thomas H. Gosnell School of Life Sciences)
Liz Bremer (Office for Diversity and Inclusion)
Nate Barlow (School of Mathematical Sciences)
Andrew Ferrante (School of Physics and Astronomy)
Daniel Maffia (Department of ASL and Interpreting Education, National Technical Institute for the Deaf)
 
Emily Mehlman
LA Program Coordinator
Program Coordinator, CASTLE
(585) 475-6182
1317 Orange Hall