Fall 2023 LA applications coming soon
Overview
The Learning Assistant (LA) Program hires undergraduate students to collaborate with faculty mentors with the overall goals of:
Transforming classes to be more interactive
and
Enhancing student success
LAs take a credit bearing class in pedagogy which provides them with skills and training to effecively reflect on student learning, make meaning from that reflection, and provide insight and ideas to work collaboratively with faculty to improve outcomes.
The work of an LA takes many forms.  Some examples include:
Facilitating of peer-to-peer small group conversation in the classroom
Creating class materials by applying novel pedagogies
Holding outside of class LA-designed sessions which provide additional support tailored to the unique needs of the class
For faculty, working with an LA can provide opportunities for incorporating new active learning strategies by providing the necessary student-focused insight and sustained in-class support for crafting and implementing novel pedagogies.  For LAs, working with a faculty mentor can provide networking and professional development opportunities for  those interested in exploring careers in education research, teaching, and more.
In the ever changing higher education landscape, the LA program is a resource which provides support to faculty throughout a whole semester.  LAs have the chance to contribute to the changes being made in our classrooms so that student voices remain at the forefront.  The position of an LA is flexible and dynamic such that LAs can support all styles of classrooms including workshops, recitations, labs, high engagement lectures, and others, and in all modalities from online-asynchronous to fully in person.
To be a part of the Learning Assistant program, all faculty and students must submit an application.  These applications, along with interviews, are used to make optimal matches between student LAs and faculty mentors.  Pairings are based on pedagogical needs/plans, personality match, experience, scheduling, and alignment of goals between the LA and mentor.  Decisions and placements are typically made within the two weeks preceding the start of the semester.
The LA program is based on the model developed at the University of Colorado - Boulder.  The RIT LA program is a part of the Learning Assistant Alliance, an international organization which connects the more than 500 different LA programs across the world!
Key Dates for Fall 2022 Program
February 14
Fall applications open
March 23
Student Information Session - 3:00pm-4:00pm, Gosnell A300
March 30
Faculty Information Session - 3:00 pm-4:00pm, Gosnell A300
April 6
Program Recruitment Fair/Meet and Greet (outdoor event) - Infinity Quad (Fireside Lounge as rain backup) - 1pm - 3pm
August 1 (tentative)
Applications close
August 1 - August 11 (tentative)
Interviews‡
August 12 - August 21 (tentative)
Tentative fall LA placements
*Meetings to take place in person, subject to change
 ‡Meetings will be combination in person and virtual
Learning Assistant NEWS
June 6, 2022 --- Congratulations to Ashley Lasko, 2022-2023 winner of the Norman A. Miles Award for Acedemic Excellence in Study!
April 18, 2022 --- Congratulations to our Learning Assistants who have been recognized with the Excellence in Student Life Award for 2022!
Keegan Kresge
Ashley Martsen
Katie O'Neill-Knasick
February 24, 2022 --- Congratulations to our Learning Assistants who have been recognized as Outstanding Undergraduate Scholars for 2022!
Ian Freezman
Tadhg Hicken
Keegan Kresge
Ashley Lasko
Katherine O'Neill-Knasick
Samara Patterson
Lauren Sabatino
Julia Steele
August, 2021 --- Dr. Paul Craig Joins LA Program Committee
Dr. Paul Craig, a professor in the School of Chemistry and Materials Science, has joined the LA Program Committee. We welcome him and look forward to working together to continue to develop this program to the fullest —transforming classroom learning sustaining pedagogical change.
March 2, 2021—Congratulations to our LAs Receiving the Outstanding Undergraduate Scholar Awards
Anna Neuenschwander
Nana Aikins
Ashley Martsen
Celia Mercovich
Emalee Wrightstone
 
Congrats also to our LA alumni also receiving this award!
Ashley Tucker
Nadia Gunderson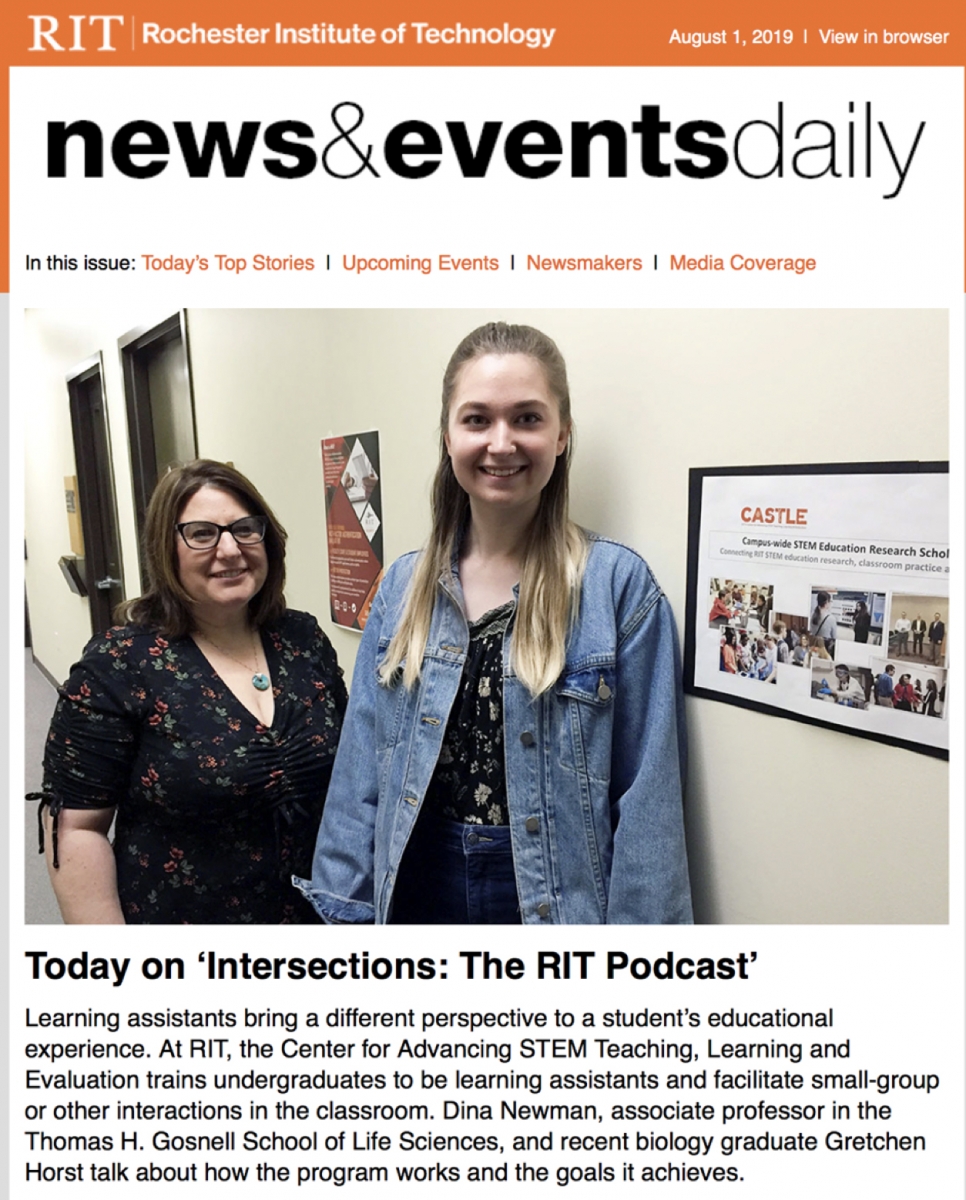 August, 2019—LA Program on RIT Intersections
LISTEN to the podcast with Dr. Dina Newman, faculty LA mentor and recent graduate and Learning Assistant, Gretchen Horst.
A sample of courses that have been supported by the LA Program is listed below. The list continues to grow.
| | |
| --- | --- |
| Life Sciences | Physics & Astronomy |
| Applications of GIS | College Physics I & II |
| Cellular & Molecular Biology | University Astronomy |
| Concepts of Environmental Science | University Physics I & II |
| Environmental Science Field Skills | Experiments in Modern Physics |
| General Organic Biochemistry I |   |
| Genetics | College of Applied Science & Technology |
| Introduction to Biology I & II | DC Circuits |
| Introduction to Bioinformatics | Electronics Measurements |
| Soil Science | Engineering Communication & Tolerancing |
|   | Fundamentals of Engineering |
| Mathematics | Mechanical Dynamics |
| Boundary Value Problems | Principles of Statics |
| College Algebra |   |
| Complex Variables | Other |
| Mathematical Modeling | Sign Mime |
| Multivariable Calculus & Differential Equations | University Writing |
| Precalculus | Metacognitive Approaches to Scientific Inquiry |
|   | Introduction to Performing Arts  |
| Chemistry & Material Sciences |   |
| Biochemistry I | NTID |
| General and Analytical Chemistry I & II | American Sign Language |
| General Chemistry for Majors | Interpreting I & II |
|   |   |
|   |   |
RIT Learning Assistant Program Faculty Committee Members:
Emily Mehlman (CASTLE Program Coordinator)
Scott Franklin (School of Physics and Astronomy)
Dawn Carter (Thomas H. Gosnell School of Life Sciences)
Liz Bremer (Office for Diversity and Inclusion)
Nate Barlow (School of Mathematical Sciences)
Andrew Ferrante (School of Physics and Astronomy)
Daniel Maffia (Department of ASL and Interpreting Education, National Technical Institute for the Deaf)
Paul Craig (School of Chemistry and Materials Science)
Follow us on Facebook and Twitter for the latest CASTLE's Learning Assistant Program News & Events!