Residence halls to undergo major 'refresh'
Air conditioning to be added on project slated to finish summer of 2025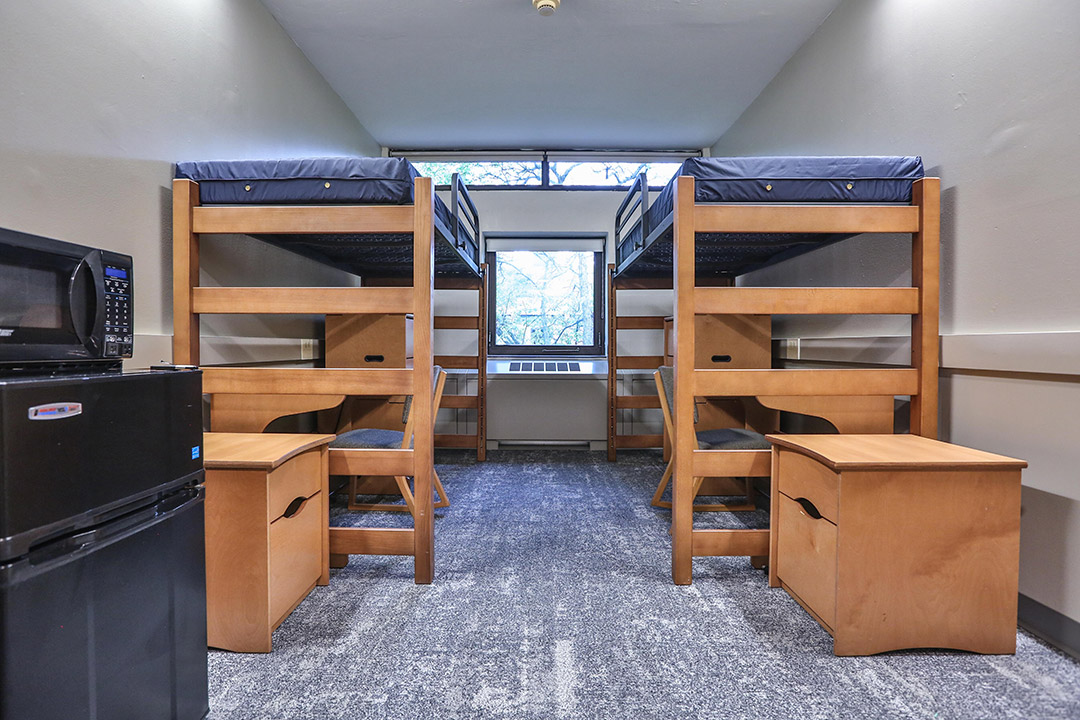 A three-year, multi-million dollar project is about to start on Rochester Institute of Technology's 1,800 rooms and nearly 400 bathrooms in 13 residence halls, the first major sprucing up since renovations were done more than 20 years ago.
Air conditioning will be added to the eight buildings that do not already have it.
Student sleeping rooms will have new lighting installed; kitchenettes will have upgraded lighting, painting, and flooring; bathrooms will have new flooring, ceilings, shower stall partitions, vanities with chrome fixtures, lighting and paint; halls will be repainted and have new carpeting, wood ceilings, room doors, and decorated side panels; and stairways will be painted and have rubber flooring and risers installed.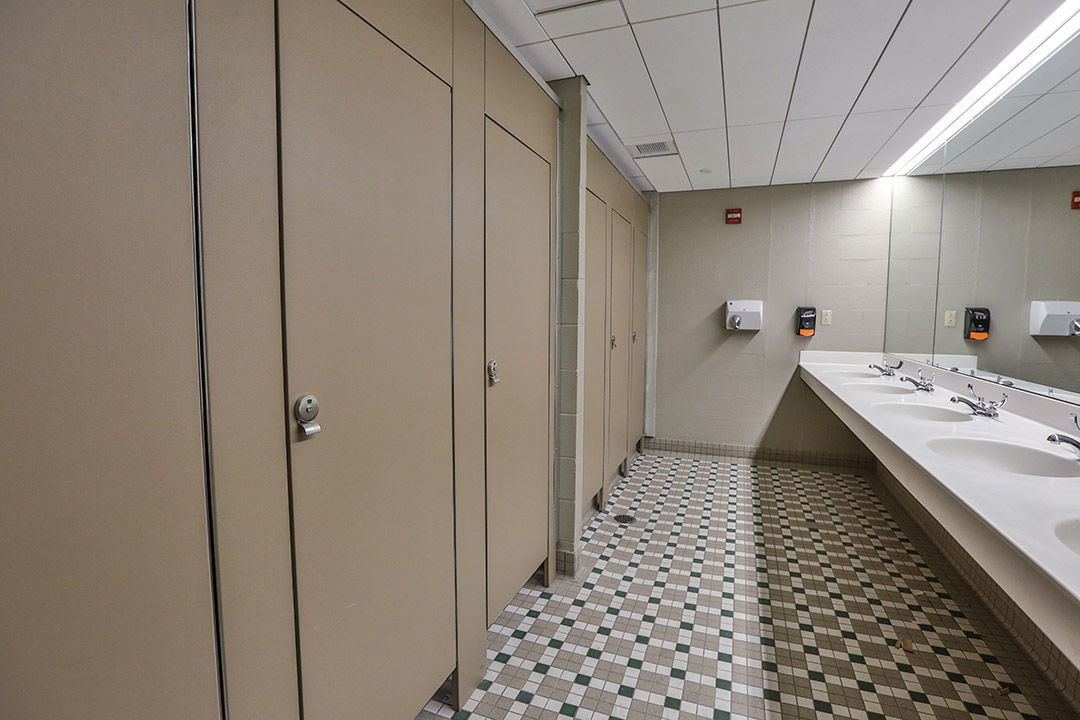 Provided photo
Shared bathrooms will also have taller stall walls and doors to allow more privacy, and older faucets and shower controls are being replaced.
"Current students want a brighter, cheerier environment," said John Moore, RIT's associate vice president for Facilities Management. "Previous renovations were done years ago, and students then wanted it warm and cozy rather than bright and inviting. It is time for a facelift."
Much of the work will be done in the summer months to minimize inconvenience for students. The larger buildings can't be spruced up entirely in the summer due to their size, so some floors will be closed to students when work is being done on them during the academic year. Work won't be happening on floors where students are currently living, Moore said.
Estimated completion date is December 2025.
Proposed timeline
Summer 2023: Baker Hall C & D; Residence Hall A
Summer and fall 2023: Nathaniel Rochester Hall
Spring to early summer 2024: Gleason Hall; Residence Hall B, first and second floor north and second floor west
Summer 2024: Colby Hall: Residence Hall B first floor west, third and fourth floors.
Summer and fall 2024: Ellingson Hall
Spring and summer 2025: Gibson Hall.
Summer 2025: Residence Hall C and D; Fish Hall; Peterson Hall
Summer and fall 2025: Sol Heumann Hall
"The larger buildings will take about six months to complete, so the way we're planning on managing them is to start them in the summer, get some floors done, and continue with other floors during the academic year," he said.
Carla Dilella, executive director of RIT Housing, said up to 3,519 students can reside in the 13 residence halls, which range from two to 12 floors. Most were built around 1967.
Students living in a residence hall that is being refreshed during the academic year may be moved within the building to space that has already been refreshed, to a different residence hall that has been refreshed, or to RIT housing other than a residence hall in order to empty a floor so work can be completed.  
Work is being prioritized for floors identified as special interest housing, where students who share a common interest reside.
"We're trying to accommodate special interest housing the best we can, whatever we can do to make it work for them," Moore said. "There's a lot of tradition and emotional connection there. We will work to refresh the space while respecting the rooted culture of the floor. We want to start those as soon as students leave in the spring so they can come back to refreshed housing in the fall."
Baker Hall A and B were refreshed this past summer as a pilot project.
"It was a model based on the products we selected," Dilella said. "We wanted to see how they worked and what the timing was like for the work to be completed."
Dilella said students are happy with the refreshed look and feel in Baker A and B. RIT Housing has been presenting to university stakeholders to inform them of the project and how it will be managed related to the students living there. The project is also being highlighted to prospective students and their parents during tours of the residence halls and in publications shared with visitors.
"They all have been excited about it," Dilella said.